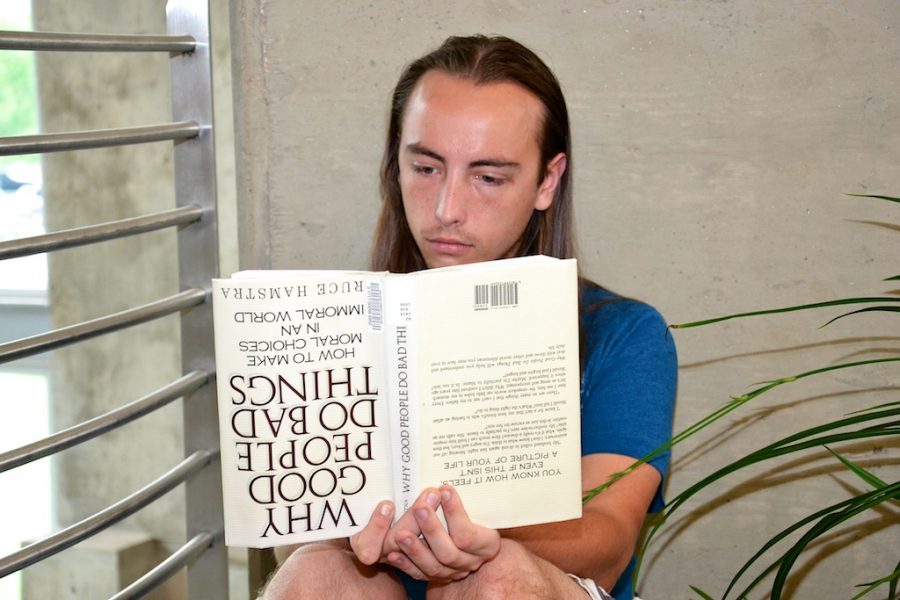 Scott Bright is a second-year ACC student, a Psychology major (with an emphasis on Human Sexuality), as well as the former Editor-in-Chief for 
The Arapahoe Pinnacle.
 Still contributing as 
the Pinnacle's
advice columnist, he lives, breathes, and will not shut up about coffee, books, or sex. He is a holder of uncomfortable conversations about uncomfortable topics. He aims to start healthy, frank, and open conversations about human sexuality and sex. Have an awkward question with no one to ask but Google? Need a space of no judgment or ridicule to ask a personal question about sex? Or love? Or relationships,
or school, or life in general? Ask Scott! He will always provide a well-researched answer, or lacking that, will provide many a source that could help answer any sort of awkwardness in life. He likes his coffee how he likes his books: well-crafted, powerful,
and large enough to drown in.
Send any and all questions about life, love, and everything in between, to
[email protected]
or submit below!
[contact-form to="
[email protected]
" subject="Ask Scott Submission"][contact-field label="Name" type="name" required="1"][contact-field label="Email" type="email"][contact-field label="Message" type="textarea" required="1"][/contact-form]
Scott Bright , Advice Columnist
Aug 24, 2020

Saving Your Wallet, One Textbook at a Time

(Story)

Jan 30, 2018

Dear Scott: Is it Rude to Ask if My Coworker is Gay?

(Story)

Dec 12, 2017

Ask Scott: Some Finals Advice for the Weary Student

(Story)

Oct 27, 2017
Oct 26, 2017

Ask Scott: An Ex Wants To Apologize

(Story)

Oct 05, 2017

Ask Scott: Size Matters, Right?

(Story)

Sep 12, 2017

Still Haven't Found the Student Organization for You?

(Story)

Sep 12, 2017

Ask Scott: Adult Decisions

(Story)

May 22, 2017

Ask Scott: Crushes

(Story)

Apr 28, 2017

Phi Theta Kappa Welcomes 37 Inductees from ACC

(Story)

Apr 05, 2017
Mar 24, 2017

Penis Envy, Pizza and Class Registration: What You Missed at Pizza With the Psychology Professors

(Story)

Mar 24, 2017

Moving Your Mountain: The ACC Career Fair

(Story)

Mar 10, 2017

You Deserve Kind Words

(Story)

Mar 10, 2017

Ask Scott: Genuine Compliments

(Story)

Mar 10, 2017

ACC Hot Topic Discussion: Fake News and the Impact on Democracy

(Story)

Mar 04, 2017

Australian Same-Sex Couple Advertisement Delivers Powerful Message

(Story)

Mar 03, 2017

Ask Scott: Addressing Trans People In Restaurants

(Story)

Mar 03, 2017

ACC Student Government Holds Spring Carnival to Boost Student Interest in End-of-Semester Elections

(Story)

Mar 03, 2017

53 Companies Join Fight For Transgender Rights Heading Towards Supreme Court

(Story)

Feb 24, 2017

Ask Scott: Religion and Relationships

(Story)

Feb 23, 2017

Ask Scott: When Do I Know I Have Consent?

(Story)

Feb 21, 2017

World's First Transgender Doll Modeled After Jazz Jennings

(Story)

Feb 17, 2017

Forget-me-not: Pinnacle Staff Looks Back on Their Most Memorable Dates

(Story)

Feb 16, 2017

Ask Scott: Support

(Story)

Feb 16, 2017

Why Revlon's Latest Brand Ambassador is so Important

(Story)

Feb 16, 2017

Boy Scouts Now Allow First Openly Trans Boy Within Organization

(Story)

Feb 12, 2017

#BlackGaySlay Celebrates Black Queer Community for Black History Month

(Story)

Feb 09, 2017

PornHub Aims to Educate

(Story)

Feb 09, 2017

Meet Your Soulmate Via. . . Hate?

(Story)

Feb 09, 2017

Editorial: ACC Pres Offers Statement on Travel Ban — and Not Much Else

(Story)

Feb 02, 2017

ACC President Dr. Diana Doyle Issues Statement Regarding Executive Order on Immigration

(Story)

Feb 02, 2017

Ask Scott: Tolerance

(Story)

Dec 10, 2016

Following The Worst Advice

(Story)

Dec 10, 2016

Uniting Under a Common Theme

(Story)

Dec 08, 2016

Dear Scott: My Boyfriend Isn't Christ Incarnate but My Mother-In-Law Thinks He Is

(Story)

Dec 06, 2016
Dec 02, 2016

Dear Scott: My Boyfriend Comments on Other Girls; I'm Ready To Begin Dating Again

(Story)

Dec 01, 2016

Is Coconut Water as "Good" as Everyone Says it is?

(Story)

Nov 14, 2016

Op-Ed: Prosocial Behavior Is Much More Challenging Than It May Be Worth (For Me)

(Story)

Nov 10, 2016

Thunderstruck: Election 2016's Shocking Results

(Story)

Nov 08, 2016

Op-Ed: You NEED To Vote But It Doesn't Have To Be For Either Major Candidate

(Story)

Nov 08, 2016

Op-Ed: How This Polarizing Election Brought Me Closer to My Grandmother

(Story)

Nov 08, 2016

Election 2016: Pinnacle Staff Tackles The State Ballot

(Story)

Nov 04, 2016

One of These Days I Will Wish You Well

(Story)

Oct 29, 2016

Dear Scott: What's a Better Way to Ask Someone Out?; What is More Important: My Job or My Education?

(Story)

Oct 28, 2016

A Sweet Transvestite Makes For a Particularly Sweet Night

(Story)

Oct 20, 2016

Dear Scott: Should Politics Be Discussed in my Relationship?

(Story)

Oct 14, 2016

Nudist Resort Restores Broken Faith in My Naked Body

(Story)

Oct 12, 2016

Ask Scott: Acceptance

(Story)

Oct 12, 2016

Arapahoe Community College's Preparation for Accreditation

(Story)

Oct 04, 2016

Phi Theta Kappa Honors Society Sigma Phi Chapter Represents ACC at Regional Conference

(Story)

Sep 30, 2016

Dear Scott: I Cheated and Don't Know What to do; Mother's Suicide Anniversary

(Story)

Sep 29, 2016

Dear Scott: I'm Buying My First Sex Toy; My Boyfriend is Uncircumcised

(Story)

Sep 27, 2016

20% More Laughs Per Square Inch

(Story)

Sep 22, 2016

Dear Scott: I'm Going on my First Date; I Have Been Invited to an Old Lover's Wedding

(Story)

Sep 21, 2016

Op Ed: An Open Letter To All Men

(Story)

Sep 15, 2016

Who IS Scott and Why Should You Ask Him About Anything?

(Story)

Sep 14, 2016

It's a Good Day For a Good Day

(Story)

Sep 14, 2016

Dear Scott: Why Does Gender Identity Matter?

(Story)

Sep 12, 2016

Sex Shop 101: 15 Tips For First-Time Sex Shoppers

(Story)