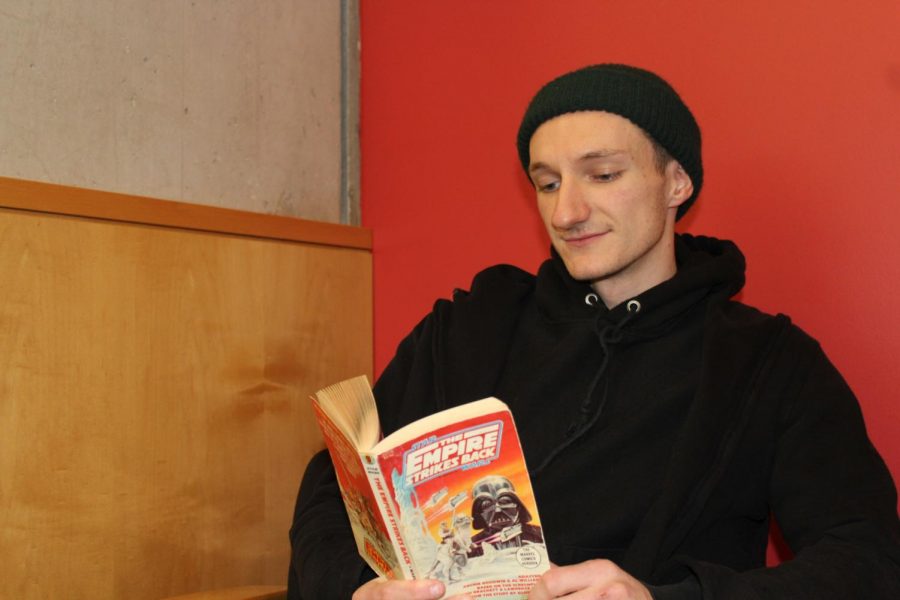 Bryden Smith believes in the news.  But at the dawn of the age of information, he watched as technology became ingrained into peoples' lives at an exponential rate.  The media is struggling to evolve, and with a divided political and cultural climate, the truth is becoming lost in translation. So, he decided to become a Journalism Major at ACC, where he's learning the industry in order to make a difference.  Bryden started as a reporter for 
The Arapahoe Pinnacle
 in early 2017 where he covered everything from national news to movie reviews to scholarship benefactors. Now, he hopes to serve the publication well as the Editor-in-Chief for his last semester at ACC.
A Colorado native, Bryden resides in Parker where he works at Panera pressing paninis or watching
Lord of the Rings
for the thousandth time.  When he's not writing or editing, he works to stay in shape with running, yoga, weight-lifting and meditation.  He loves quiet evenings with his girlfriend, black coffee, good conversation and new perspectives. Look out for more stories coming this spring!
Bryden Smith, Editor-in-Chief
Sep 12, 2018

Interning at The Gazette: The Home Stretch

(Story/Media)

Sep 08, 2018

Interning at The Gazette: Part 2

(Story/Media)

Jun 21, 2018

Interning at The Gazette: The first weeks

(Story/Media)

May 08, 2018

Public Art Prospers in Parker

(Story/Media)

Apr 15, 2018

Through the Lens: Geese on Guard

(Story/Media)

Apr 11, 2018

Congressional District 4's 'Town Hall For Our Lives' Continues the Conversation on Gun Reform

(Story/Media)

Mar 21, 2018

Inside ACC's $8.6 Million Science Lab Renovation

(Story)

Mar 02, 2018

Review: All Freakin' Nine of the 2018 Best Picture Nominations

(Story)

Feb 20, 2018
Dec 28, 2017

Review: 'DREAD' is a Horror Short that Delivers

(Story)

Dec 05, 2017

The Top Five Board Games to Gift and Play This Holiday Season

(Story)

Nov 13, 2017

Review: 'Thor: Ragnarok'

(Story)

Nov 09, 2017

Pedophilia Continues in Hollywood

(Story)

Nov 03, 2017

Review: "The Killing of a Sacred Deer"

(Story)

Nov 03, 2017
Oct 26, 2017

Ethnographer, Marketer, and Author Simon Sinek to Broadcast Speech at ACC

(Story)

Oct 18, 2017

Editorial: To Fund Mental Health, Just Tax Weed

(Story)

Oct 12, 2017

Review: 'Blade Runner 2049' Makes Its Predecessor Proud

(Story)

Sep 30, 2017

Facebook's Plan to Defend Democracy

(Story)

Sep 20, 2017

Review and Explanation: "mother!" is the Most Unsettling Movie That You Have to See

(Story)

Sep 15, 2017

Review: "It" (2017)

(Story)

Sep 13, 2017

ACC to Host CCCS Presidential Search Community Forum

(Story)

Sep 07, 2017

Dogs: A Lesson Worth Learning

(Story)

Sep 07, 2017

Meet the Editor: Scott Bright

(Story)

Sep 05, 2017

Gas Leak Near A+D Building Doesn't Warrant Further Worrying

(Story)

May 06, 2017

There's Still Time to Visit 'Catalyst,' the ACC Graphic Design Portfolio Show

(Story)

May 06, 2017

"The Circle" Review

(Story)

Apr 27, 2017

Saving Hanging Lake, By Any Means Necessary

(Story)

Apr 27, 2017

Course Evaluations Can Actually Make a Difference, if Everyone Contributes

(Story)

Apr 21, 2017

The Gorillaz are Bringing their New Album to Red Rocks

(Story)

Apr 20, 2017

What You Missed at ACC's Broadcast Journalism Panel

(Story)

Apr 19, 2017

Initiative 300 and the International Church of Cannabis

(Story)

Apr 12, 2017

Escape Room Pioneers Fund Two $5K Scholarships for ACC Students

(Story)

Apr 11, 2017

Review: "Ghost in the Shell"

(Story)

Apr 06, 2017

Op Ed: What Kate Chopin's Feminist Classic Can Teach Millennials

(Story)

Mar 30, 2017

Review: Daniel Espinosa's "Life"

(Story)

Mar 09, 2017

Screw the Stairs!

(Story)

Mar 02, 2017

Review: Jordan Peele's 'Get Out'

(Story)

Mar 02, 2017

Review: Gore Verbinski's A Cure For Wellness

(Story)

Mar 02, 2017

Review: The Upbeat Ambiance of Ross McGuire's Debut Album

(Story)

Feb 24, 2017

Mindful Meditation: A Simple Solution to Semester Stress

(Story)

Feb 16, 2017

Taking the High Road: The Facts on Marijuana-Impaired Driving

(Story)

Feb 09, 2017

Introducing Betsy DeVos, the New Secretary of Education

(Story)

Feb 09, 2017

TGI First Friday! The Santa Fe Art District at a Glance

(Story)

Feb 02, 2017

Defunding Planned Parenthood and the Future Plans of a Pro-Life Trump

(Story)

Feb 01, 2017

Star Wars Episode VIII Title Revealed! But Who is The Last Jedi?

(Story)

Oct 24, 2016

ACC's Parker Campus Makes Me Excited to be a College Student Again

(Story)