Review: All Freakin' Nine of the 2018 Best Picture Nominations
For a lack of better things to do with my limited free time, I've spent my Sunday evenings over the last several weeks catching up on this year's Oscar nominations – specifically those nominated for best picture. In year's past, I lazily watched them long after the awards were given, either once they were on Netflix or could be rented for cheap. This year I've seen them all, and I'm here to present my favorites to you.
Are my picks at all correlated to the actual winner? Are the Academy Awards really that important? It's impossible to say. What I can tell you with confidence is that each one of these films is worth watching. So, without further ado…
9. Darkest Hour, directed by Joe Wright
"Darkest Hour" takes place over the short period of five weeks in 1940, from when Winston Churchill was elected Prime Minister of Britain to the evacuation of Dunkirk. Brilliantly enhanced by the makeup of Kazuhiro Tsuji, Gary Oldman offers a fervent portrayal of the stubborn, booze-with-breakfast, strong-willed Churchill and is up for best actor for the performance.
This film offers an interesting glimpse of the U.K. on the brink of WWII, and as A. O. Scott of the New York Times puts it, "a few insights and details about the practice of statecraft in a time of crisis." Though not without major highs, the film is slow and dreary, set almost entirely underground in map rooms and among war councils, making you feel the urge for a breath of fresh air by the time the credits roll. If you're after action but want the same historical focus, see fellow-nominee "Dunkirk," which I'll discuss later.
Guillermo Del Toro's signature aesthetic is at its best in "The Shape of Water," and the film's lovable cast and unorthodox romance will have you swooning. Sally Hawkins plays Elisa, a mute custodian at a secret government facility in the 1960's, who forms a relationship with a captive, intelligent creature plucked from the Amazon jungle.
Hawkins' vivid silent expressions have paved her path towards best actress, but the supporting cast (Octavia Spencer and Richard Jenkins), is what ties it all together.
But this movie is not unlike others from Del Toro ("Pan's Labyrinth;" "Hellboy") in that it's at times startlingly violent; scenes of the creature being tortured by Michael Shannon's vicious character can be hard to watch. Though in all its strangeness, "The Shape of Water" is pure magic.
Predictably, "The Post" was marvelous. With a team of some of the best Hollywood veterans, including Steven Spielberg, Meryl Streep and Tom Hanks centered on one of the most significant trials of the free press in American history, why wouldn't it be? Hanks and Streep play the Washington Post's editor and publisher in 1971 when the publication was struggling for national recognition.
Soon, a choice must be made: whether or not to publish the contents of the top-secret Pentagon Papers, exposing the U.S. government's prolonged, yet unsuccessful, involvement in Vietnam. It could mean the end of their newspaper or worse if they publish, but if they don't, it could mean the end of our democracy.
Spielberg's classic style ensures continuous excitement. Westword's Bilge Ebiri says he "shoots this political drama like a long-lost Indiana Jones movie," framing the secret files like secret artifacts and journalists like treasure hunters. We know how this movie ends, but it's an important watch – after all, a free press is essential to a free country.
6. Dunkirk, written and directed by Christopher Nolan
I feel bad for everyone who didn't get the chance to see "Dunkirk" in theaters last year. Shot almost entirely on large-format film and accompanied by an emotionally and auditorily assaulting score by Hans Zimmer, this is one of those movies that truly was made for the big screen. If it were spliced together with "Darkest Hour" it'd make for quite an epic, together telling the full story of the evacuation of Dunkirk in 1940.
Unlike "Darkest Hour," there are no war rooms, no politics, and very little dialogue. In fact, there's no time to really get to know any of the characters at all between the three intricately woven storylines on the ground, in the air, and at sea. But the scenes and performances shine through because Christopher Nolan himself has said, "Dunkirk is not a war film." Instead, like the true story, this is about survival.
5. Lady Bird, written and directed by Greta Gerwig
Greta Gerwig's directorial debut is a battle of wills, between the familiar archetypes of headstrong teenage daughter and mother-at-the-end-of-her-rope. But it's also a story of love and of family, of pain and of change. Saoirse Ronan is deservedly up for best actress for playing 17-year-old Lady Bird, and Laurie Metcalf has a supporting nomination for playing her mom. Of all the nominees, this one feels the least like a movie and the most like real life.
Despite the genuine performances, it's Gerwig that should get the credit for that accomplishment. The characters can say and experience awful things, but in the end, they're still loved by the audience due to the gracious delivery. Subtle symbolism is scattered throughout, like in the cast that Lady Bird wears. Similar to "Frances Ha," another of Gerwig's films in which she co-wrote and starred, "Lady Bird" is an authentic triumph.
4. Get Out, written and directed by Jordan Peele
It's crazy that a horror movie has been nominated for best picture – that just doesn't happen. There have been a sparse few throughout the years, with the most recent being "The Sixth Sense" in 1999, but I'm not sure I would call that a horror movie. In general, they just don't make the cut. "Get Out" is different.
When I first reviewed it last March, I said the movie "manages to tackle racism, benevolent and otherwise, in a cohesive and fresh manner. From start to finish, the film produces deep psychological scares, ab-crunching laughs, and stellar performances, making "Get Out" not just stand out, but stand apart."
It's been nearly a year since, but I'm still just as excited. Key & Peele costar Jordan Peele understands that comedy and horror are two very similar genres, making his writer-director debut a particularly strong movie. Unfortunately, the film's themes are still alarmingly relevant, to the point that Peele called it "a documentary" last November.
3. Call Me By Your Name, directed by Luca Guadagnino
What Luca Guadanino has created here is an aesthetic masterpiece and a visual massage. Admittedly though, it's hard not to feel all warm and fuzzy watching a love story set in 1980's Northern Italy, accompanied by music and literature equally as entrancing. This film is gorgeous in the smartest of ways, addressing love and sex with the gracious fluidity they deserve.
"Call Me By Your Name" stars Timothee Chalamet as Elio, a 17-year-old American-Italian who spends his days reading and playing music in content boredom. Soon, Oliver (Armie Hammer), a student of Elio's father, arrives for the summer to study and rest. What starts out as curiosity turns into annoyance, then into friendship, then into something much more. These characters are exquisitely portrayed, amplifying their unconventional story with a beauty as sophisticated as the Greek statutes that Oliver studies. Chalamet is deservedly up for best actor.
2. Phantom Thread, written and directed by Paul Thomas Anderson
Most of the people I've talked to about "Phantom Thread" have described it as dull, boring and confusing. The people next to me in the theater, who talked through the whole movie, certainly agreed, saying something like, 'what was that?' on the way out. I'll admit I was skeptical at first too; I really don't have much of an interest in dresses or fashion in general for that matter. But I'm happy to say, Paul Thomas Anderson, Daniel Day-Lewis, and Vicky Krieps succeeded in utterly hypnotizing me.
"Phantom Thread" stars Daniel Day-Lewis — in what he has said will be his final on-screen role – as Reynolds Woodcock, an esteemed dressmaker in post-war London. Set aside the fact that Day-Lewis and Anderson's last film won Day-Lewis an Oscar and it's still a no-brainer why he accepted the role. Woodcock has all the typical characteristics of an artist: great talent, probable genius, neurotic behavior, and passion dancing on the line between ambition and obsession, between tenderness and cruelty. To no one's surprise, DDL is once again up for best actor.
A truly beguiling character, Woodcock spends his days sketching and cycling through various muses. He is meticulous in his routine; when he tires of a relationship, the woman is given a dress and shown the door. That is, however, until he meets Alma (Vicky Krieps).
Anderson has found equilibrium in tension across nearly all layers of the film. Everything about "Phantom Thread" — the lighting, the performances, the continually unexpected plot, the Oscar-nominated score by Radiohead's own Jonny Greenwood – is bordering on perfection.
1. Three Billboards Outside Ebbing, Missouri, written and directed by Martin McDonagh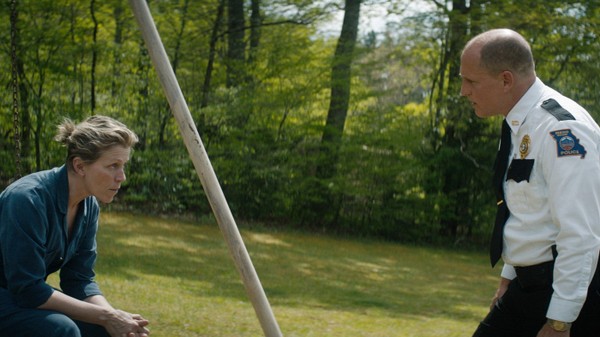 While watching "Three Billboards Outside Ebbing, Missouri" I was frequently out of breath. It was in part because I was laughing at the exquisitely crafted jokes that are scattered throughout the film, but also from the figurative gut-punches that the delivery of a subject this dark entails. It's hard to describe this movie without telling you what each of the three billboards says, so instead I'll tell you that it's about justice, but more often than not, revenge.
Months have passed since Mildred's (Frances McDormand) daughter was brutally murdered, yet the police have no leads. The town of Ebbing – including Police Chief Willoughby (Woody Harrelson) and Mildred's own son – just wants to move on. Walled in by grief and hardened by regret, she's had enough. 'Moving on' simply isn't going to cut it.
If I had my way, Frances McDormand and Woody Harrelson both should walk away with the Oscars they're nominated for, best actress and best supporting actor, respectively. As Manohla Dargis of the New York Times puts it, they actors really "play their range" here, each strikingly flawed yet discernibly and compellingly human.
Like the people of Ebbing, the movie is not without imperfections. There's weird scene with a deer, a trip to the dentist that's apparently just for shock-value, and Alissa Wilkinson of Vox explains the controversy of Sam Rockwell's openly-racist character being given somewhat of a redemptive arch.
Maybe it's ironic that perhaps the most-flawed film nominated for best picture is my favorite. I think what I like the most about this movie is that each of the characters is so unique that they become authentic, forever imprinted in memory. Audiences are compelled to care, and in doing so, they're moved.
---
The 90th Academy Awards will air Sunday, March 4, at 6:00 p.m. Mountain time.
Leave a Comment