Ethnographer, Marketer, and Author Simon Sinek to Broadcast Speech at ACC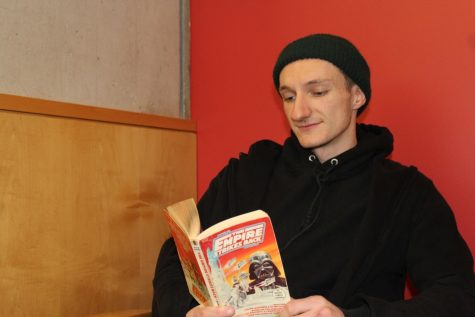 More stories from Bryden Smith
On Wednesday, Nov. 8th from 5:00 p.m. to 6:00 p.m. in the Waring Theater, ACC will do a live broadcast of a unique speaker: Simon Sinek.
Sinek is an accomplished author, with New York Times Bestsellers like "Start With Why: How Great Leaders Inspire Everyone to Take Action" and "Leaders Eat Last: Why Some Teams Pull Together and Others Don't".  His TED Talk on leadership is hailed as the third most popular of all time with nearly 35 million views, and his recent discussion on millennials sparked both controversy and concurrence.
Before he started writing books and giving speeches, he spent time as an advertiser, eventually opening his own marketing firm. He has a degree in anthropology and the bio on his website calls him a "trained ethnographer."
By definition, ethnography means the use of scientific means to describe the customs of people and cultures. His studies have mainly focused on American business practices and management techniques.
In many ways, his ideas challenge the norm, but you can't argue with his success. He insists that empathy is the key to good leadership, and in turn, measurable results. He dreams of "a world in which the vast majority of people wake up every single morning inspired to go to work, feel safe when they're there, and return home fulfilled at the end of the day."
And if you do not recognize him from his books or impressive resume, you probably recognize him from his interview on Inside Quest, a video that went viral around the end of last year. In it, the longtime leadership consultant who has worked with everyone from corporate giants to military leaders attempts to answer what he calls 'the millennial question.'
In the video, Sinek makes the claim that "millennials are hard to manage." He points out the typical generalizations made about the generation, that they are 'entitled, narcissistic and lazy.' Though he concedes that it's to no fault of their own, that they were "dealt a bad hand." Instead, he says it's a product of helicopter parenting, participation medals, social media addiction, and an ingrained impatience–or the need for instant gratification.
The things that really matter take time and millennials aren't prepared to wait, Sinek argues. "Job satisfaction, strength of relationships—there ain't no app for that."
The reasoning Sinek made really clicked with some but offended others. Either way, the video was shared left and right by young and old alike. You can watch it below.
Sinek has a plethora of perspectives and experiences to share and he's known for presenting them in engaging ways. At ACC, he will speak about the difference between infinite and finite players in a presentation titled, "The Infinite Game." A chance to ask him questions is not an opportunity to be missed.
Sinek's appearance is courtesy of the National Society of Leadership and Success. To ask Sinek questions during the event, tweet it out using the hashtag, #thensls.
For more information on accommodations, visit the Student Life office, or contact Student Life Director, Dan Balski, at [email protected].
Correction: In the originally published article, it was detailed that Sinek would be physically present at ACC. Instead, the visit will be a live broadcast to the theater. Updated October 31st, 2017.