Review: Jordan Peele's 'Get Out'
'Ninety-nine percent. Ninety-nine percent. When I first saw the Rotten Tomatoes rating for the new horror-comedy "Get Out," I knew I had to see it. I mean, how often does a horror movie these days even score an above average review? After a year of disappointing flicks like the Blair Witch reboot, I've been craving something unique. Last week, I high-tailed it to the premier and left dragging my open jaw out of the theater.
Written and directed by Key and Peele costar Jordan Peele, "Get Out" manages to tackle racism, benevolent and otherwise, in a cohesive and fresh manner. From start to finish, the film produces deep psychological scares, ab-crunching laughs, and stellar performances, making "Get Out" not just stand out but stand apart.
The slow-building story follows Chris, played by the up-and-coming Daniel Kaluuya, a young black photographer who reaches the dreaded moment in any relationship: meeting the parents. He urges his white girlfriend Rose (Allison Williams) to give her parents a heads up that he's black, but she tells him not to worry; after all, they're not racist. They head up to their secluded home for the weekend, and Chris suffers through Rose's father Dean (Bradley Whitford) awkwardly insisting that he "would've voted for Obama a third time," and pressing questions from his wife Missy (Catherine Keener) about Chris's troubled past.
Soon, however, whatever comfort Chris still feels turns into fear as he notices that the inauspicious black servants (Betty Gabriel and Marcus Henderson) are more than just off. After a frightening session of hypnosis-induced-paralysis, Chris's paranoia begins to take over and things go from uncomfortable to alarming.
I would pay for another ten-dollar ticket just to see the hypnosis scene again. Creative and expertly executed, Kaluuya's performance glues eyes to the screen; viewers can feel their minds unraveling right along with Chris. The directing was sensational and profoundly unique, making "Get Out" an impressive horror debut for Jordan Peele.
But I'm not the only one hyped up about this movie—Chance the Rapper reportedly bought out an entire theater in downtown Chicago in order to hand out tickets for free. He tweeted, "DID I NOT TELL YALL #GETOUT WAS INCREDIBLE!! BEST FILM ACROSS ANY GENERA IN A WHILE GO SEE IT TODAY." Alan Scherstuhl of Westword Magazine calls "Get Out" "the most trenchant studio release in years."
Daringly provocative, terrifying yet hilarious, and unpleasantly relevant, Get Out is the most unique film of the year. Check out the trailer below.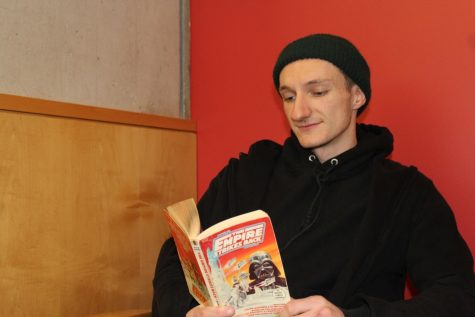 Bryden Smith, Editor-in-Chief
Bryden Smith believes in the news.  But at the dawn of the age of information, he watched as technology became ingrained into peoples' lives at an exponential rate.  The media is struggling to evolve, and with a divided political...