Public Art Prospers in Parker
"It's got to be made of materials that are super durable," Christopher Weed says. He's talking about public art, and with over 20 years of creating art for public places under his belt, he's an expert. He's also the artist behind "Jacks," the largest sculpture in Parker, Colo.'s booming art district.
His monument is hard to miss, sitting at the entrance to Discovery Park on Mainstreet, the site of Parker's new public library, a small concert venue and even an ice rink. The three pieces – two jacks and one red ball – are each about 14 feet tall and 20-by-20 feet wide. They weigh a whopping 6,000 pounds each and are made to last, meant to remain "long after I'm gone," he says.
"[They've] been sandblasted with glass beads to give it a satin finish," Weed says. "They're smooth to touch, both the stainless-steel jacks and the "marine-grade paint" on the fiberglass ball. At night, they're illuminated with color-changing LEDs.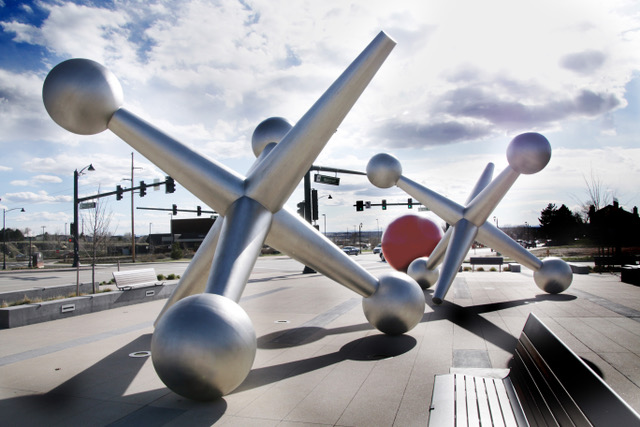 This was, pun possibly intended, a big job. Due to a lack of equipment in the state, some of the fabrication of the piece was done out of state. The piece had to be made, disassembled, shipped and then put back together on site. This is something that Weed is used to. Last year alone, he and his team completed six public art commissions in towns and cities across the country.
But for this project, he had to try his hand at something new: writing a master plan for the area. Not only did Weed have to coordinate with the art groups in Parker, he also dealt with his own team of engineers and designers, developers of the area, and even someone from the library itself.
It all worked out in the end. "It was a pleasure working with all of them; they were quite professional," he says.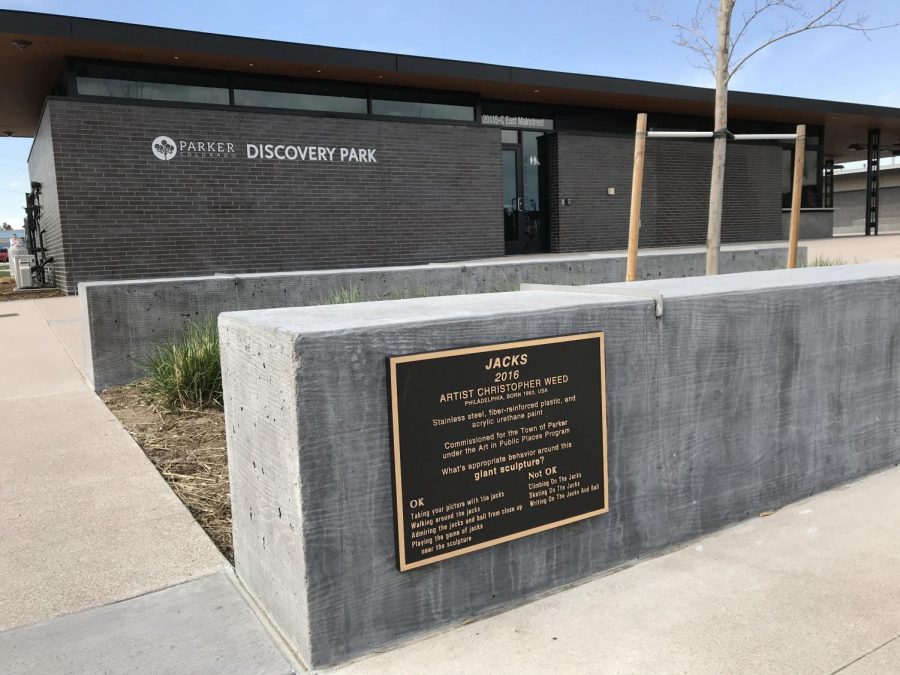 This doesn't seem to match the trend, though, for things to work out so smoothly. Cities and towns all across the state have had plenty of difficulties surrounding public art.
In Golden, some bronze sculptures were found to be cheaper copies of original art, and in Durango, many insisted that the public wasn't nearly involved enough in the recent commissioning of a $28,000 sculpture.
There's also the issue of whether or not there are resources available to maintain the displays. In Steamboat, the city accepted public art donations for years without considering repairs; now, each proposed piece must be evaluated by a consultant who determines the amount of money needed to keep the piece in good condition. After spending an unprecedented $800K in maintenance costs over 20 years, Denver International Airport finally received permission to take "Interior Garden" off display.
Parker doesn't have these issues, certainly on any meaningful scale. There's little controversy and rarely any maintenance issues. Mainstreet is filled with a variety of styles of public art and the cultural department as a whole is flourishing. So, what makes Parker different?
Parker by the numbers
First off, it must be pointed out that Parker is quite affluent. According to the 2018 Annual Budget Report, the median income in the town is over $110 thousand, 87 percent more than the national average. The unemployment rate is only 2.3 percent and of the 51,715 residents, over 60 percent have a college degree.
The population continues to grow – it was a mere 285 people in 1981 – and the infrastructure is mainly comprised of new developments, with a few historical buildings.
You'll also find a love of art reflected in the town budget; 5.8 percent of the yearly expenditures go towards its cultural fund, accounting for a 2018 budget of $5.9 million. Public art is only a small portion of all that the Cultural Department does, however.
In addition, Parker is in Douglas County, one of the seven in the Denver-Metro area that has adopted a cultural fund that comes from a 0.1 percent sales tax. The tax, known as the Scientific and Cultural Facilities District (SCFD) funds various nonprofits and municipalities that are divided into three funding tiers. CPR reports The Town of Parker Cultural Department, in tier two, received approximately $306 thousand from SCFD in 2015.
According to Elaine Mariner, the Director of the Cultural Department, "Jacks," and the master plan for the area, were commissioned for a total of $150 thousand. Funds for the work came mainly from the cultural fund, with a smaller portion coming from the Parker Urban Renewal Authority.
Money might not grow on trees, but in Parker, it isn't in short supply.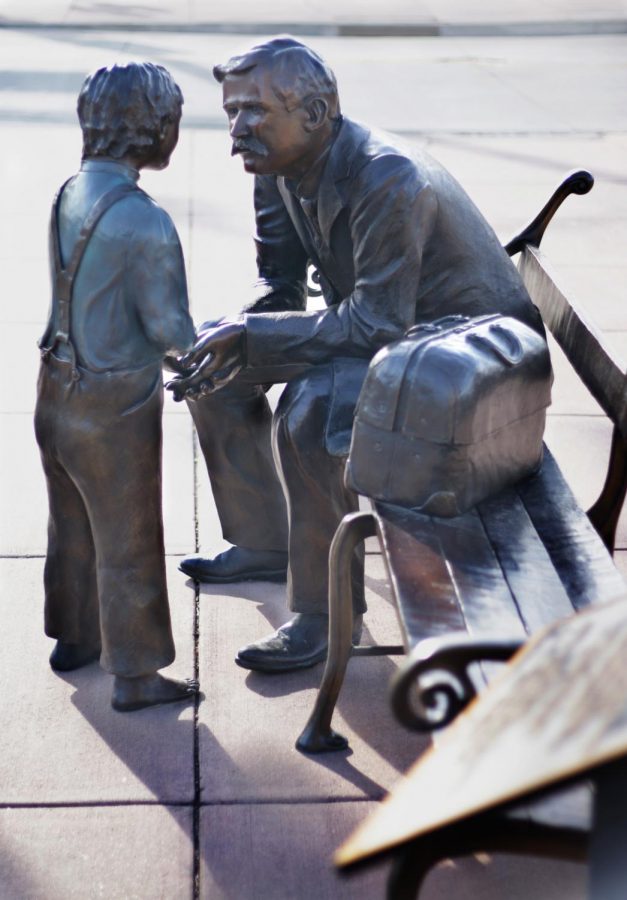 The traditional public art process
In Parker, there are a variety of avenues for public artwork to be commissioned, and usually, a handful of different groups involved. At the top of the food chain lies the Cultural Department, followed by the Scientific and Cultural Commission and finally, the Art in Public Places Committee. The latter two are volunteer-based, with no term-limit for the Art in Public Places Committee. The Scientific and Cultural Commission members are appointed every two years by the Town Council, but the terms are renewable.
Elizabeth Lamonia is hands-on when it comes to public art as the Scientific and Cultural Commission Secretary and the Chair of the Art in Public Places Committee. She's a believer in public art and thinks that part of its role is to start conversations, and she explained Parker's approaches and methodology in detail.
The typical process goes like this: either the town decides a piece of land would be a good spot for public art, or a local business or new development wants a piece on their property. Then a listing is posted, and artists apply for the commission. Then the Art in Public Places Committee reviews the applications and converses over key questions. What types of materials will be used, and will those materials be durable? How much work will it be to maintain? Is the piece a good fit for the location? Is it unique? Luckily, there are multiple artists on the committee that help the group make informed decisions.
"We always want a variety of materials," Lamonia says, "and our artists help to give a good eye for the quality of the piece."
While there was some additional complexity with "Jacks" due to the master plan and all, it pretty much stuck to those steps. After a listing was posted, applications were reviewed and ranked by the committee until they narrowed it down to a handful of artists.
In the end, it went to Weed; not only did he have the experience to pull it off, but he had a vision that was closely aligned with that of the town.
"[They wanted] something that was iconic, easily identifiable… something that spoke to a simpler time," and acted as a "gateway" to Discovery Park, Weed says.
"[Jacks] might just be an everyday object, but on a larger than life scale, it does transport you to another realm… [the pieces] become expressive entities, like in a stage play."
However, this traditional process of commissioning artwork isn't the main reason why downtown Parker has recently filled with artwork. Parker's participation in one program cuts down on maintenance costs while simultaneously engaging the public and keeping the area fresh.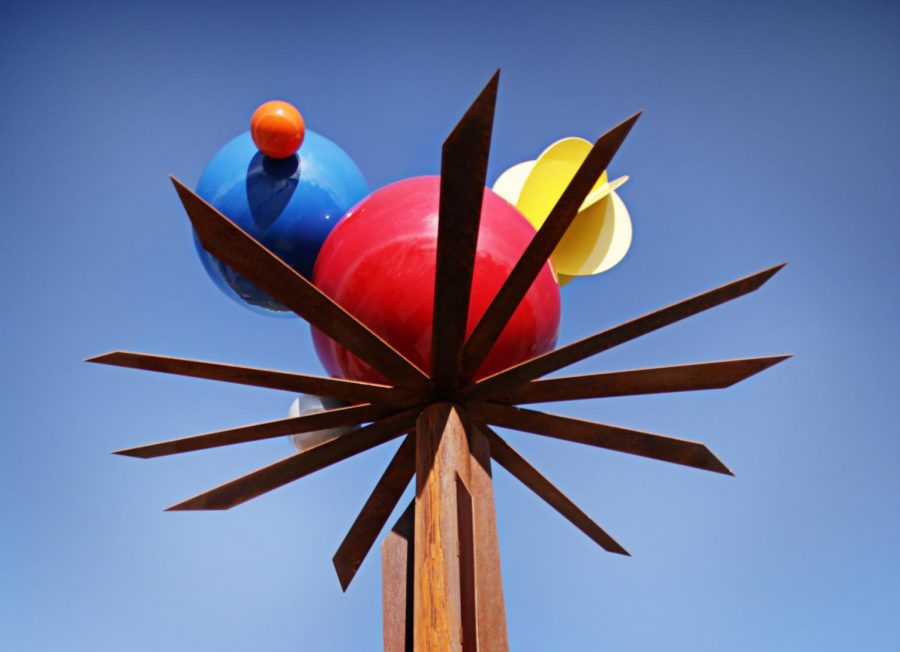 Trying something new: Douglas County Art Encounters
Walking down Mainstreet in Parker today looks a lot different than it did this time last year. That's because many of the sculptures are new and change each year.
The Douglas County Art Encounters program started in 2008 and includes Parker, Lone Tree, Castle Rock, Highlands Ranch and Roxborough Park. It works like this: artists apply for the program at the start of each year, and the applications are reviewed by an advisory board overseen by the Douglas County Cultural Council. Once the pieces are selected, each town picks out the sculptures that they want (though they might not always get every piece they desire), and they are divvied out.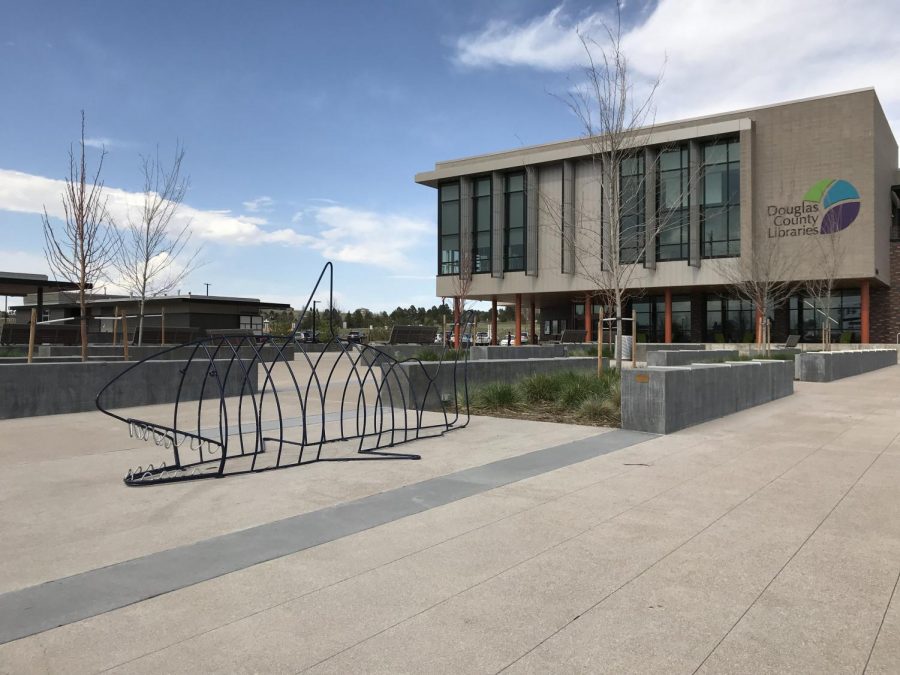 After installation at the beginning of the summer, each artist receives $800 from the town in which they're displayed. In addition, the pieces are on sale to the public.
Lamonia is a big fan of the program. "If there's something you love – or don't love – it'll be there for a year… it doesn't always have to appeal to everyone," she says.
Plus, it's a great way to get feedback from the community.
"They're pretty vocal on social media if they like it or not… [and] if the community has a great response, we have the opportunity to purchase it."
Such has been the case with "Maneater" by Jim Choate, a bike rack at Discovery Park that looks like a giant shark and "The Dance" by Lee Proctor, depicting two cranes in a ritualistic display. Now each piece is a permanent installation.
Other sculptures, like "Say Cheese" by Justin Deister, have stirred up a bit of controversy, but both residents and visitors can look forward to a new round of pieces coming this month.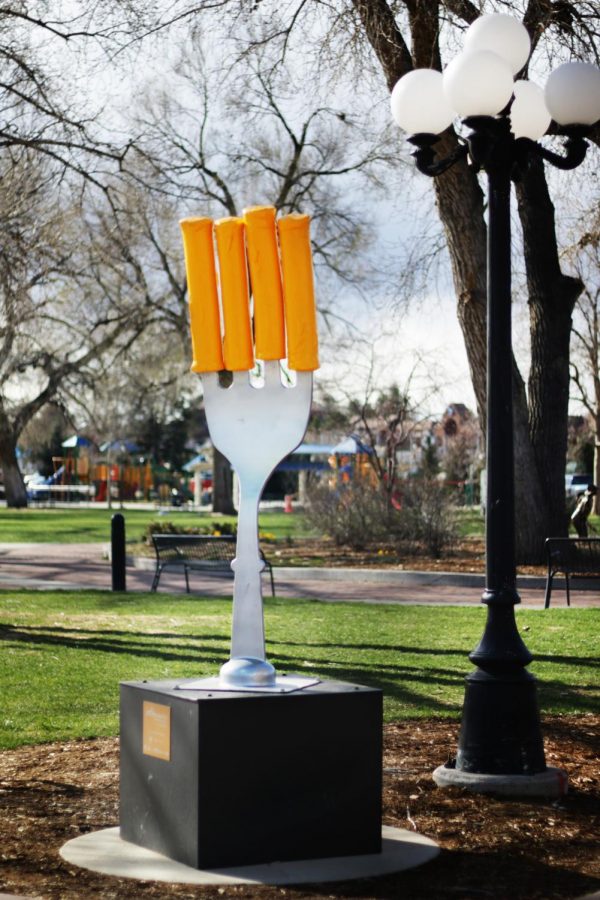 Why public art?
"Our goals are not piece-specific…" Lamonia says. "I think it's more about how we make public art something that people desire, want to talk about and will have a positive impact." Parker is doing just that. Worst case, Lamonia points out that even if a piece of artwork isn't well received, it still serves as a landmark.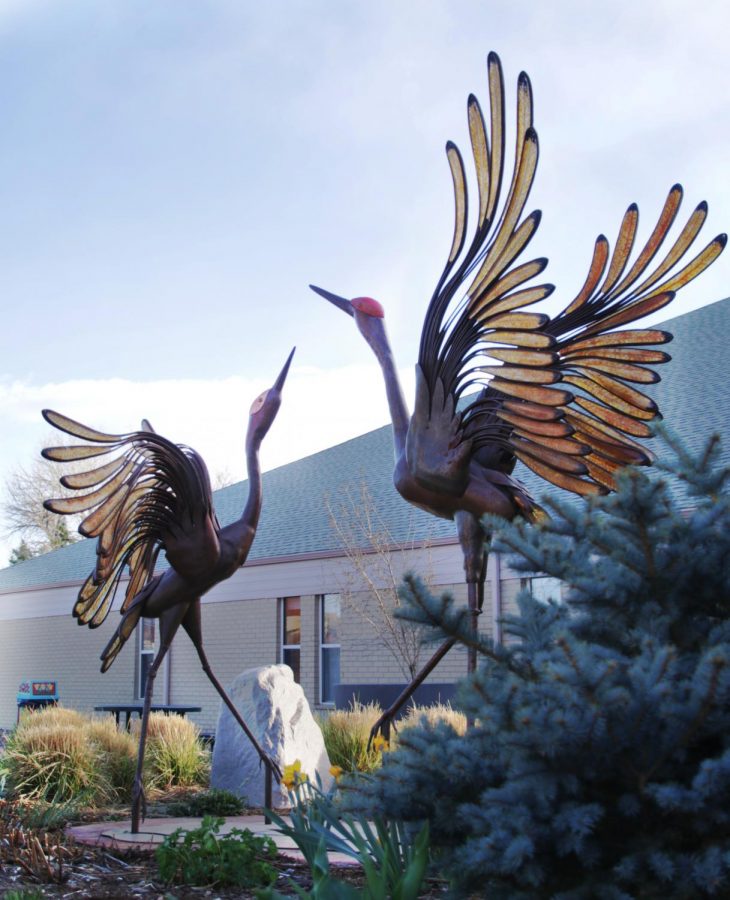 And at the end of the day, Lamonia says, "it is an economic driver." When residents and visitors are out and about, exploring the art, they're likely to step inside the local shops, or grab a cup of coffee from Fika Coffee House, or a beer from Elevation 5900. That's a win-win-win, for the artists, local businesses and ultimately, the town.
She hopes that trend continues and that as Parker continues to grow, new businesses will take note and chose to implement public art.
To answer the question, 'why public art?' perhaps it's best to let the artists answer. When speaking of Parker, Weed says, "Everywhere you turn, there's art on the street. I think that's important… it really does define our cities and towns."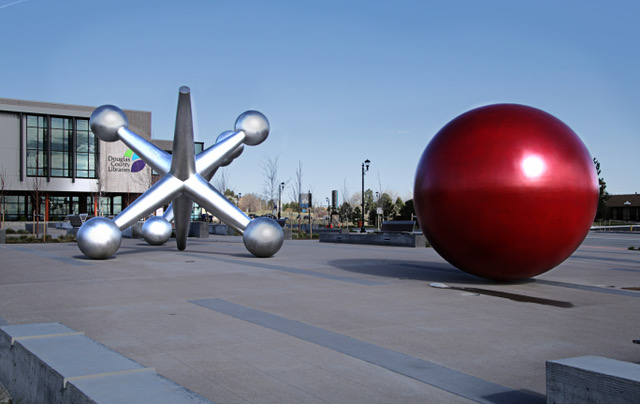 ---
To explore more of Parker's public art exhibits, click here or download the Otocast App from the Itunes Store or Google Play and select Parker Art.
View Comments (3)