Christmas in the Park
The Denver Christkindlmarket comes to Civic Center Park.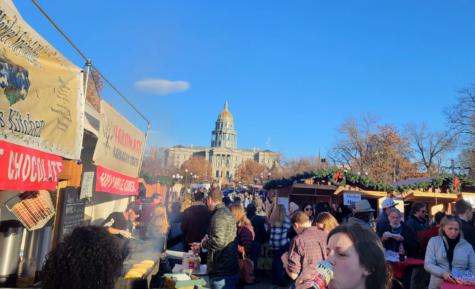 Tis' the season for open air markets, dancing, and Bavarian Christmas decorations in Denver's own Civic Center Park.
That's right, the Christkindlmarket is here for all to enjoy. The bustling marketplace offers food, gift vendors, dances, drinks, and dining areas. All under the constant hum of Christmas music and open conversation. 
Inside the festival center you'll find dozens of rows of huts and sheds, each filled with vendors and their own unique product. There's a grass area for lawn games and kids spaces, dining tents and lots of Christmas decorations!
The map of the event shows the layout of the park and what each of the vendors have to offer. From crepes and pastries, to art and beer, the Christkindlmarket has it all. 
The market draws people from all over including Jim Beauchane, who is originally from California and was visiting from out of state. Beauchane decided to check out the market after hearing about it from some relatives. 
When asked about the market, Beauchane replied, "I had my first kebab at a Bavarian Christmas festival. How weird is that?" A testament to the variety of vendors accumulated there. 
He then continued, "Well, it has a very busy atmosphere, so at times it was hard to experience all the things just trying to not run into people. But I mean it is very popular and the music and dancing were fun to watch." 
Popular indeed. There is an abundance of food from all over Europe,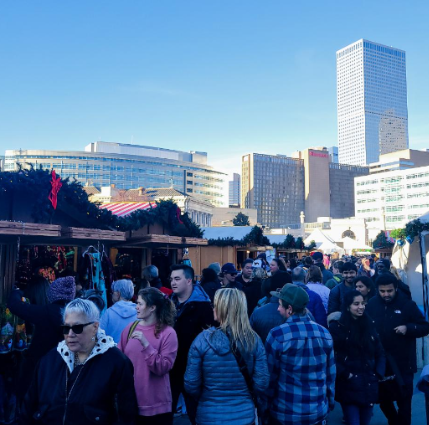 drinks, and gifts in the festival center. Right under the Mile High Tree – America's tallest digital tree standing at 110 feet tall – and surrounded by downtown Denver's vibrant atmosphere. The market is all outdoors and free to the public. Open Sunday through Wednesday, 11 a.m. to 7 p.m., and Thursday through Saturday, 11 a.m. to 9 p.m.. The market runs through Dec. 23 and is a perfect addition to the holiday season.
Don't have a car? Not a problem. The heart of Denver is all just a 20-minute-ride on the light rail from ACC's Littleton Campus. Just take the D line to the convention center in Denver and follow the scent of cookies and hot cocoa to Civic Center park. It's a fun time for all to enjoy, but be sure to bundle up for colder weather. 
An outdoor market is the perfect place to spend the holidays and find gifts for loved ones to make memories. If you have the time this holiday season, take the trip to Denver and experience it for yourself.