Spring Literary Festival Back In-Person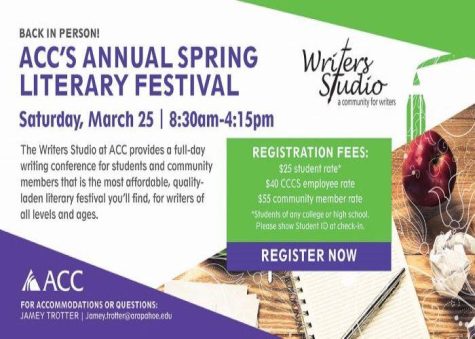 For the first time since 2019, Arapahoe Community College's Spring Literary Festival will be back in person.
Hosted by ACC's Writer's Studio, the Spring Literary Festival is an annual event open to students, staff, and community members. This year the festival will be this Saturday, March 25, from 8:30 a.m. to 4:15 p.m.
Due to the pandemic, recent festivals been hosted on Zoom. This year, however, the festival returns to ACC's Littleton Campus, with workshops, author readings, and an open mic.
According to ACC's website, the festival "provides a full-day writing conference for students and community members that is the most affordable, quality-laden literary festival you'll find, for writers of all levels and ages."
Attendants will be able to learn from a variety of local authors during the workshop portion of the festival. This year's authors are D.L. Cordero, Cristo Apache, Leah Rogin-Roper, Meca'Ayo and Nancy Stohlman.
Anyone interested in attending will have to purchase a ticket. Tickets are $25 for students, $40 for CCCS employees or $55 for community members. Each ticket includes a copy of "Progenitor Art and Literary Journal", v. 57, 2022, a continental breakfast, author reading and book signing, lunch and open mic opportunity.
For more information or accommodations, contact Jamey Trotter at [email protected].