The Best of Everything
DO NOT MISS this Colorado live-theater premiere, The Best of Everything, playing at sister-college Red Rocks this weekend!
My homeboy, David-Matthew Barnes, who taught at Arapahoe Community College for a few years, and who brought ACC the Vagina Monologues, directs. But this weekend he's in Amsterdam (poor guy) for a film festival in which his film is up for an award, so Kelly Jo Eldredge will be helming this play. It'll be a good show, folks.
This weekend: March 2nd, 3rd, and 4th at 7:00pm. TICKETS HERE
The Abstract: "The Best of Everything is presented in association with the Center for Inclusion and Diversity and in honor of Women's History Month. The play is adapted from Rona Jaffe's bestselling novel from the 1950s (which was also adapted into an Academy Award-nominated film). The stage version, adapted by Julie Kramer, recently had a successful run in New York. It explores the lives of six women working in the publishing industry in the 1950s in Manhattan, and audiences will find that much of the subject matter in the show is still relevant today."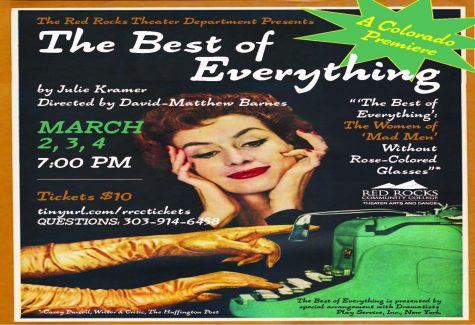 Leave a Comment