Russ at Red Rocks: "There's Really A Wolf"
Russel Vital, known to his fans as Russ, is a musician/music producer who performed at the Red Rocks Park & Amphitheater on October. 28. It was a crisp night and the air radiated with the hype crowd. Lines of excited fans wrapped around the large parking lot, as they awaited Russ on center-stage. The 10,000 tickets for the concert were sold out in a matter of days. Russ was giving the show to debut his new album, "There's Really A Wolf."
Not only is Russ known for his incredible beats but also his unique eye condition heterochromia iridum; having two different eye colors. Russ has one black eye and one brown, and he is also colorblind. Russ' distinctive image, from his curly hair to his different colored eyes, can be attributed to his Sicilian heritage. But aside from his good looks, Russ has been interested in music since he was 7, when he started writing raps in his notebooks. Many years later at age 14, he began creating his own beats, and recorded his first song at 18.
Russ' debut album was released in April with the smash hit "What They Want" which hit mainstream media and landed him on the radio, increasing his number of listeners. Russ produced, wrote, engineered, and mixed every song on the album, "There's Really A Wolf," which include the songs: Losin' Control, Cherry Hill, Pull The Trigger, and Ride Slow.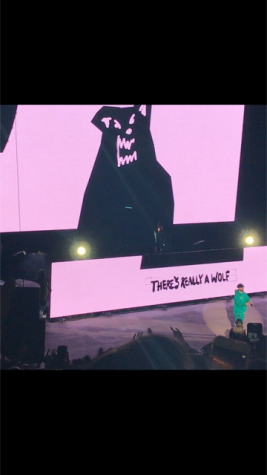 Listen to There's Really A Wolf" on Spotify here.
The crowd were true Russ fans. While standing in line, there were people who mentioned that they were waiting since 2 p.m that day. The concert wasn't until 8p.m. and Russ didn't show on stage until 10 p.m. His openers took up two hours of the entire show; some of whom were; PNB Rock and Bugus. General admissions costed $49.50 while reserved rows 1-5 were $85.
The atmosphere was lively at Red Rocks. Drinks were being passed around, and everyone was there to listen to an artist they love and have a good time. Before Russ hit the stage, all went silent as the crowd awaited in anticipation and angst. The crowd began to grow impatient and started chanting, "we want Russ, we want Russ, we want Russ."
Finally Russ took the stage opening with, "What They Want" and the crowd went wild. Although, Russ was there to sing songs from the album "There's Really A Wolf" he also sang other songs he penned in 2014, "Willy Wonka (feat. Paulina and Jefe), and "Goodbye" from the "Pink Elephant" mixtape. He also sang a new single he released in September, just before the show in October called, "Wife You Up."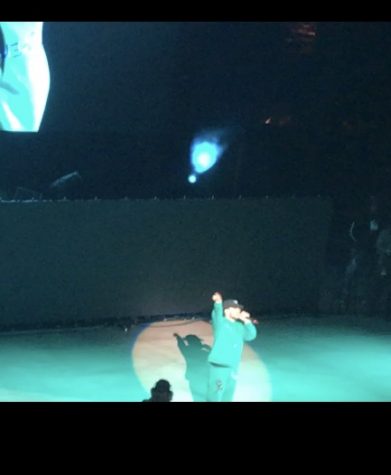 Besides singing to the audience, Russ was interactive, and after almost every song he took a moment to speak with the crowd. He spoke about relationships, the world, and life in general, spilling real thoughts and emotions to the crowd. He claimed in one moment, "when I look out at the crowd and I see people that I don't know but they're screaming I love you Russ and they're singing the words back, it's like, what the f- do I have to complain about, you feel me?" Russ even claims that the Red Rocks show was the greatest night of his life, he even mentions this on his Instagram account. Click to check out, Russ' Instagram.
Although, Russ produces and engineers his own songs, he takes pride in the fact that he always stays true to himself. No matter where his fame may lead him.