Purrlesque; Show Me Your Kitties!
The Chateau Cat Girls brought on a new take to burlesque at The Oriental Theater March 21st, featuring a wide array of seductive and surprising acts. These are not your average "cat ladies," the Chateau Girls (models from thechateau.org) performed feats of skill including but not limited to: fire hooping, aerial dance, singing, and some sultry, swinging steps.
If you missed the last show, don't worry, there are plenty more to come! With performances scheduled in Denver, Black Hawk, and Las Vegas, the kittens have plans to move their show across the nation.
"
Think Playboy meets Cat Girl,
— The Chateau - Cat Girl Manor
Directed by Jeff Lawson, self-identified "cat herder," amateurs and experienced professionals alike took to the stage with cohesive and creative storytelling. Starting the show by sensually crawling on the floor like a literal herd of cats, they set the scene with themes of fancy tea parties, lost kitty tales, and feral feline play-fights.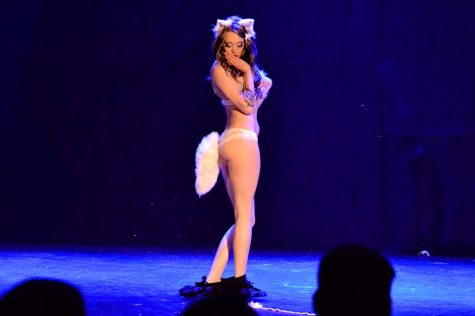 Sporting a variety of cat ears and lingerie outfits, the Chateau Girls danced fluidly against pink, red, and purple lighted sets, often illuminated by the glow of their fire spinning demonstrations.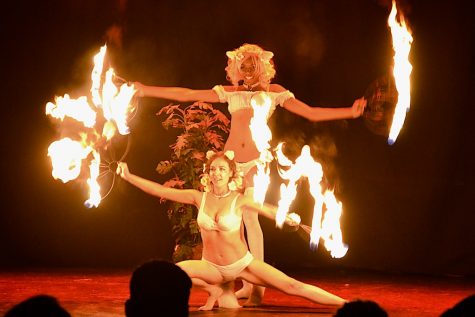 The Chateau Cat Girls successfully brought bawdy humor and provocative allure to the stage, the trademarks of every good burlesque, while creating their own novelty. Purrlesque is a nod to the stylings of acclaimed burlesque and fetish performer, Dita Von Teese, by displaying expanding aspects of sexuality and role-playing.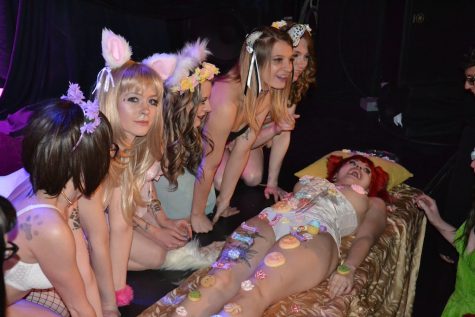 The dance troupe and online magazine was founded by the illustrious mistress of ceremonies, Isibella Mircalla Karnstein. Having ran events in other states, Karnstein moved to Denver and found a niche in kitten play burlesque and boudoir modeling.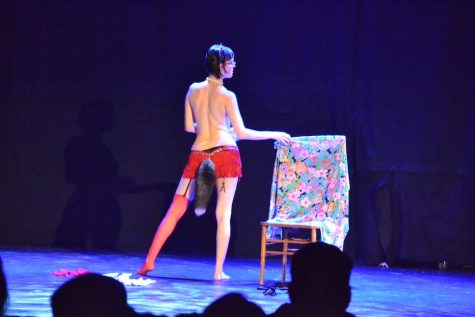 Image via Nico Danks
With roughly over 100 audience members dressed in cat tails and ears, and audible meowing during rounds of applause, it's clear that there's a target audience appreciating the shout-out.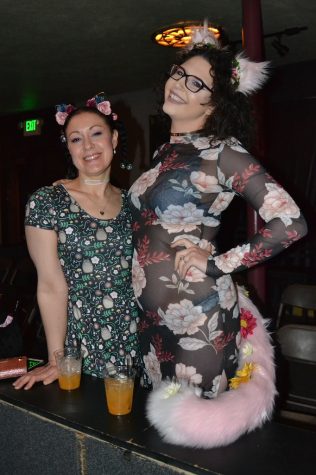 For some of the audience members and performers, kitten play is a subset of pet play, or another type of fetish roleplaying. Karnstein goes into detail (in a lovely, staccato British accent) on the different types of kitten orientations that have evolved over the past 8 years.
Karnstein smiles wryly as she lovingly describes 'feral kittens' as independent and dominant. "You can often tell the owner who has a feral because you'll often see scratches on them, or bite marks," she slyly remarks.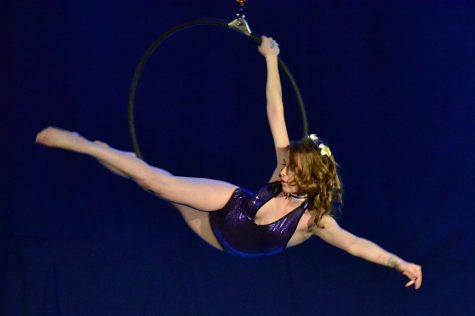 Image via Nico Danks
Those aspiring to be Chateau models and performers can join Purrlesque by filling out this application. At the end of each performance, the winning applicants are handed a white rose and brought to the stage.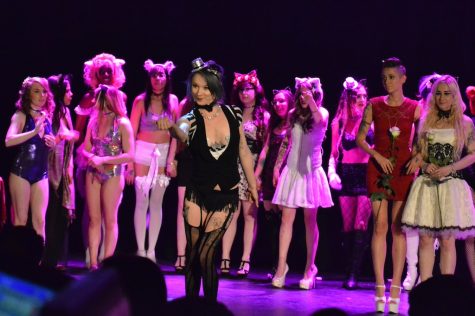 You don't need to be a 'kitten lifestyler' in order to enjoy Purrlesque; its assortment of talent will entertain any fan of burlesque and circus acts. Some of their next performances will take place at Ophelia's Electric Soapbox on May 18th, the Artisan Hotel Boutique in Las Vegas on June 3rd, and Lannie's Clockwork Tower on October 8th. Check out their Facebook page to keep up to date with their events.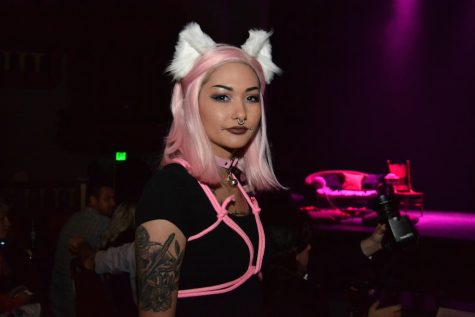 When I asked my date if he enjoyed the show, he responded, "Well, it was very interesting, but not realistic. None of the cats were napping!" Nope, they certainly were not.
View Comments (2)