1349, Tombs and Full of Hell at the Roxy Theatre
Jake Tharan, Arapahoe Pinnacle Music Critic
January 26, 2016
Hang on for a minute...we're trying to find some more stories you might like.
What better way to spend a Friday night than to seek out the Roxy Theatre in Denver for a night of musicians brandishing spike gauntlets and eerie corpse paint?
I did just that, heading out to historic Five Points in Denver to witness some intriguing performances from a few rising names in the heavy metal music scene.  The headlining act traveled all the way from Norway to unleash a dazzling, dark display of musical proficiency and what the band describes as "aural hellfire."
This is a suitable description of the aural assault helmed by the black metal quartet known as 1349.  These four men display breakneck tempos with sharp leads and fierce solos.  Such is pertinent to the infrastructure of Black Metal, which is a hellish subgenre of metal displaying fast paced tempos and rhythms, as well as piercing, high pitched vocals completed by blasphemous, strong anti-religious sentiment.  Add in spikes, corpse paint, blood and chains and you have the typical elements of a black metal act.  
1349 are no exception to the rule, as each member took the stage clothed in black garments with bullet-belts and ghostly painted faces.  Minimal lighting or spotlights accompanied by smoke machines made for a dim, uncanny stage display.  This was dark music operating in a bleak setting to the delight of faithful head-bangers who sought no less when they purchased a ticket.
This ticket proved to be a good purchase as the Roxy Theatre is quite fitting for a metal show – the sound offered in the 500-capacity venue did justice to guitar-driven music.  Few monitors onstage allowed the music to fill the room but not overflow to the point of becoming distressing to the ears.  Yet again, we are housed in a venue that does not render an audience member blind to the performers on stage.  Attendees may relax at the seats or tables around the venue or opt for taking their chances with the maniacs on the open floor.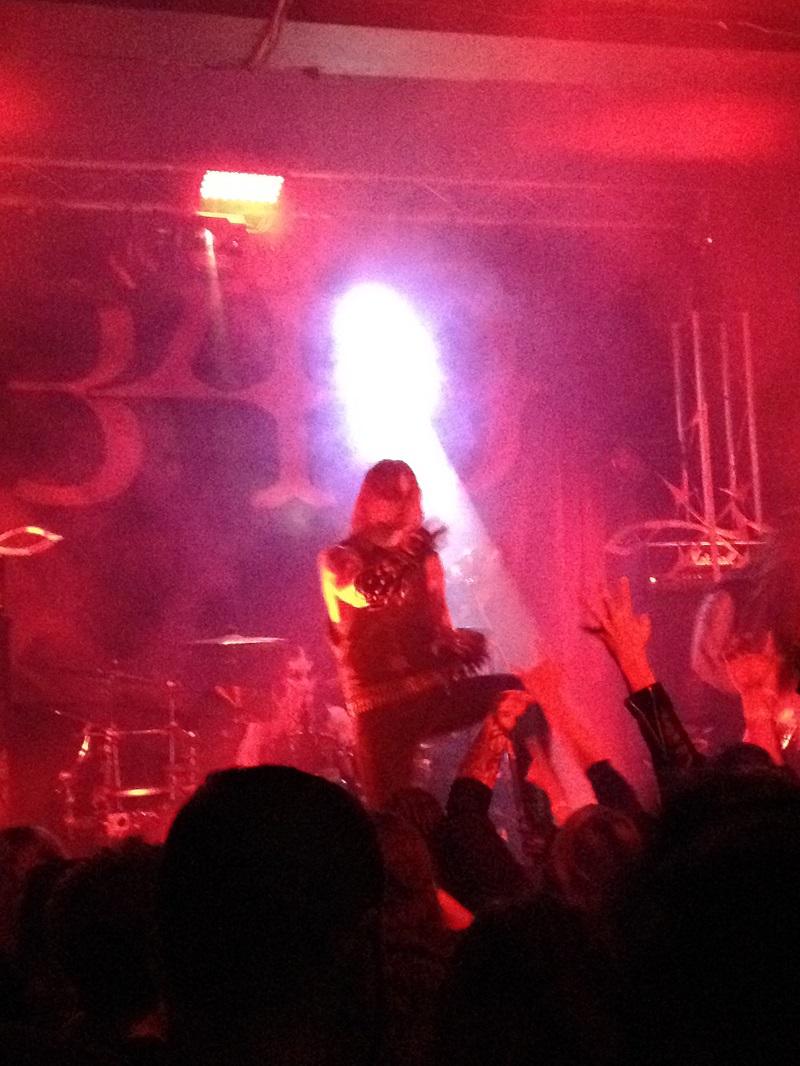 Tombs, the band opening for 1349, wielded an eclectic sound that cannot and should not be confined to one genre.  They blend many of the best styles from different subgenres to make for their own distinguishing sound, though their music boasts a strong black metal influence.  
Tombs transitions between screamed or shouted vocals to spoken word, while the guitarists launch into sections of hasty sweep-picking.  They also fuse ambient, experimental styles into their songwriting, shaping a crushing amalgamate that repeatedly bends the template.  
The third band on the tour package, hailing from Maryland, was a bizarre misanthrope called Full of Hell.  Their music is grinding, muddy, dense and harsh.  Consisting of short songs stuffed with blast beats and indecipherable vocals, the band hones intensity with short bursts as its ammunition.  It's largely noise but the purely malign nature of the music is simply fascinating and it's enough to entice a frenzied mosh among audience members.
All three of these acts exhibit curious nature to those unfamiliar with this breed of music.  It is sure to shock and hopefully delight anyone who has not experienced its force.  If you've made to the end of this article, head to YouTube and prepare your senses for a course in the unusual.