School of Rock: ACC Students Show Off Their Musical Skills At The Pop/Rock Ensemble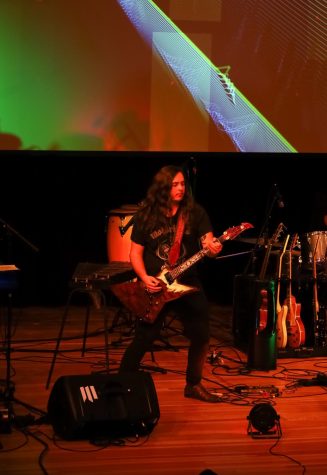 On Friday Dec. 9, amidst finals week, a group of students are doing their finals in a unique way. Rather than taking a test or writing an essay, students of the Pop/Rock Ensemble Class are performing music for an audience in the Waring Theater at the Arapahoe Community College (ACC) Littleton Campus.
It's not just the current students of this class performing, it's also past students and some community members as well. With skills ranging from people who picked up an instrument for the first time this semester to professional musicians, the performers are of all ages and all walks of life.
The wide range of performers creates a very diverse setlist with covers of many different songs that don't all pertain to the same genre.
Aaron Walker is the professor who teaches this class. He himself took the Pop/Rock Ensemble class at ACC many years ago.
He said, "If you look at the ensemble that we had today we had people that were 18 to 65 on stage playing together."
Walker said, "our songs went from ABBA to Metallica and everything in between, and so it's a really cool thing to see young people playing old-people music and old people playing young-people music and, yeah, the whole thing is just, what a cool experience and what a cool class."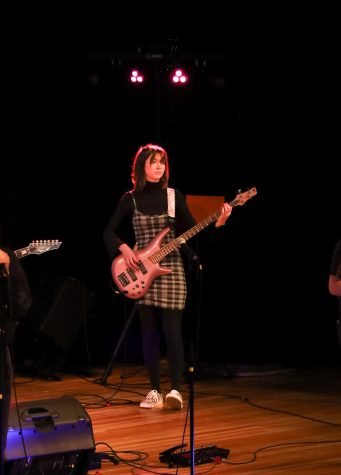 Some students have taken this class more than 10 times. Not because they have to, but rather because they want to. 
"This class is not just about a grade, this class is about getting together with people, a sense of community, playing music together, having a good time," Walker said.
When Walker took this class at ACC all those years ago, they didn't have the sound systems or the array of lights that they have now. "The (music) department has worked very hard to get it to the level that it is now," said Walker. 
The performance was emphasized by a wide array of lights and animated graphics that were projected behind the performers. The production quality of the concert was on par with a professional concert. 
The Pop/Rock Ensemble students are not the only ones performing at the Waring Theater during the last few days of the semester: The Jazz Ensemble also performed there on Dec. 9. The String Orchestra preformed on Dec. 12, and on Dec. 13, there was a choir concert.
All of these concerts were free and open to all.
For more information visit the music page of the ACC website.