Throwback Thursday: Fire Inflicts Heavy Damage
$15,000 Loss Estimated in Students Lounge Blaze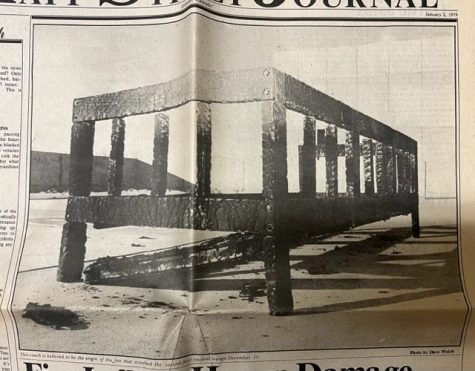 Editor's Note: This article first appeared in the Rapp Street Journal on January 2, 1979. According to the US Bureau of Labor Statistics's CPI Inflation Calculator, $15,000 in 1979 is the equivalent of $65,704 in 2023. The Rapp Street Journal was Arapahoe Community College's student paper at the time. 
A smoldering cigarette may have ignited the two-alarm fire that erupted in the second floor student lounge December 13, 1978. Two Littleton Fire units responded to the blaze shortly after 7 pm and a third was called in to assist in ventilating the smoke-filled building later. The fire inflicted costly damage to carpeting, ceiling, light fixtures, pillows, several couches and the display screen for the wide-screen projection television. The Community College was closed for Christmas break and the building was nearly deserted when the fire broke out.
Littleton Fire Department Arson Investigator Chuck Rolling pointed out several cigarette butts and empty match books lying on the floor despite the presence of twenty ashtrays in the lounge area. Rolling believes the fire may have been started by a cigarette in one of the couch cushions. In all, one couch was completely destroyed, and one couch, two chair frames, and 30 cushions were either burned or melted.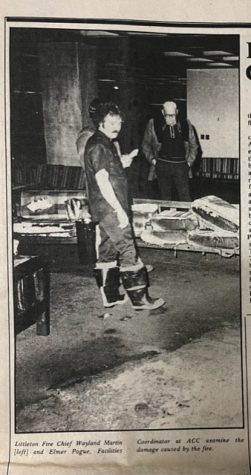 The fire also burned approximately 170 square feet of carpeting and scorched the wooden floor beneath it. The painted mural on the east wall and the TV display screen at the opposite side of the lounge were blistered and blackened from the heat. The wide-screen television unit was apparently undamaged. Plastic light shields on the overhead lights melted under the intese heat and dropped to the floor. The lounge ceiling was covered with a layer of carbon. Total cost for repairing the damage and replacing the destroyed furniature was tentative placed at $15,000; but ACC Facilities Coordinator Elmer Pogue noted, "With so much smoke damage there's no telling where the dollar figure will stop."
Night security guard Rena Davis checked the lounge twice before 7 pm. At 6:25 she noted the lounge was empty and the television was on. She then closed the main building and began locking the doors of the Annex and North building. Afterwards, she returned to her office on the second floor to telephone Pogue. The lounge area was quiet when she passed it again at 6:55. Several minutes later she smelled "something like a furnace burning." Davis opened her office door and saw a blanket of thick, black smoke engulfing the second floor. Pogue advised her to pull the alarm and start opening doors for ventilation. The firemen arrived shortly before 7:07 pm, extinguished the fire, and began removing doors to help disperse the smoke. "To think that all this happened in only ten minutes," Davis commented, "I wonder what would have happened if thirty more minutes had passed."