It's Still Summer: The Early Return Of Pumpkin Spice
The day is Aug. 27, 2019 and the temperatures are just blooming over 90-degrees. You walk into your local Starbucks for a cool and refreshing summertime drink; an iced tea or maybe even a latte. But as you cross the threshold of the coveted coffee shop, you're blindsided by an orange banner glaring at you from behind the counter; the smell of nutmeg wafting about the store like mustard gas in the trenches of a battle field. It's the Pumpkin Spice Latte, and it's back earlier than ever.
Starbucks Coffee Company has a reputation for celebrating the upcoming changes in seasons with matching beverages for the occasion. The Winter months celebrate drinks made with eggnog and peppermint, Springtime summons berry and floral teas and summer invokes creamy and frozen beverages.
But as the record breaking temperatures of summer blaze on, Starbucks has ushered in the earliest launch of the infamous Pumpkin Spice Latte, or PSL. Last year's PSL launch date was Aug. 28 a day later than this year's current release and the earliest the coffee juggernaut has ever launched a fall beverage.
The Summer season technically lasts from June 21 to Sept. 23, so why begin sales of a notoriously Autumn themed beverage two-thirds of the way through the previous season? The answer is sales.
According to Neilsen research, (a global company built on data and analytics that observes sales and media trends around the world) Starbucks has seen an increase in sales during the launch of the PSL. In 2018 the coffee giant saw over $6.9 million in sales of pumpkin products. "Which was up nearly 10% in dollar growth and more than 7% in unit volume from the same time last year." Says the study at Neislen.com
But not all coffee shops follow the same trends as Starbucks. Arapahoe Community College's (ACC) very own Espresso Yourself Café follows a more standard model for launching Fall drinks. Irania Currazco, a Barista at the campus' café says, in regards to their Autumn line up, "we don't serve pumpkin that early because it's too close to the summer semester. But we will be serving them very soon, possibly next week or mid-September."
One can understand why pumpkin drinks are popular this time of year. There is a whole demographic of people who yearn for the crisp air, early sun sets and orange backdrop.  To those I say, enjoy your pumpkins guilt free, and we summer folk will catch up to you shortly.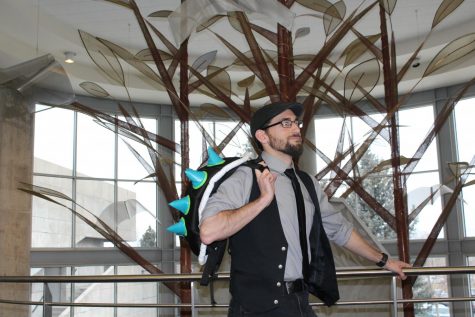 Dylan Boxer, Entertainment and Culture Editor
A veteran to the Arapahoe Pinnacle, editor Dylan Boxer is known for his quick wit and lightheartedness within the publication. When his not writing you can usually find him outside on his long-board or inside working on his next cosplay....