In anticipation of National Novel Writing Month, better known as NANOWRIMO, Arapahoe Community College welcomed three authors who shared their expertise in a kickoff panel held on Oct. 25 in the library commons. The panelists — Steven Dunn, Nancy Viera, and Brian Dickson — offered support and guidance to those aiming to write 50,000 words during the month of November. 
The cost-free event was organized by Writer's Studio co-coordinators Juliet Beckman and Jomil Ebro. In an interview, Beckman imparted the value of the kickoff panel for students and members of the community who attended.
"It's important to support our creative writing students," Beckman said. "The added benefit is that we are able to help people who maybe aren't even interested in creative writing…I think it encourages anybody who wants to write and maybe not even publish…to do that in an interior, kind of personal way."
The kickoff panel included each author reading excerpts from their upcoming works. 
Steven Dunn, author of Potted Meat and Water & Power, read a passage from a book he is working on about a rapper, Nas. During a trip to Norway, Dunn went to the "top of a mountain to a Viking mansion" where he listened to Nas and wrote about his music. The novel incorporates a travel element to reflect the traveling Nas raps about in his songs. 
The second presenter, Nancy Viera, has a memoir titled The Grief and The Happiness and two poetry collections called Silhouette and Chicago and You. Viera read from a book she is currently writing about three generations of women who have a special gift. She also read a poem she recently wrote titled, "Whispers of Stories" about women who go missing by the Mexican border. 
The final panelist, Brian Dickson, is an English professor at the Community College of Denver and author of All Points Radiant, In A Heart's Rut, and Maybe This is How Tides Work. Dickson read from a flash novella he recently completed titled Broken Halos in the Fire, a fictionalized account of the adversity he endured his freshman year of high school.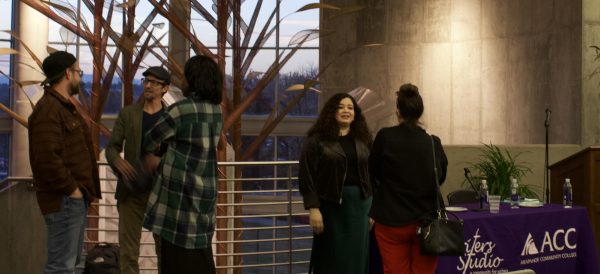 During the Q&A session following the panelists' readings, attendees inquired about various topics, including the authors' writing processes and how they find the courage to be themselves in their work. One audience member asked the panelists how they overcome obstacles — real or imagined. Viera shared that her own roadblocks are often rooted in numerical measures of success.
"That's what creates that block," she said. "You feel like your success is only measured by having this published book, by having your story out, by having reviews, or by how many people like your post on Facebook or Instagram, or by how many people follow you…[whether you write] 50 words a day or one, that's still success." 
No matter what one's word-count goal may be, anyone participating in National Novel Writing Month is encouraged to attend ACC's NANOWRIMO write-in sessions during the month of November. Sessions will be held on Nov. 2, 7, 15, and 30 from 2-6 p.m. in room M4150. Food and beverage will be provided and one creative-writing faculty member will start off each session. 
For more information or accommodations, contact Juliet Beckman at [email protected] or Jomil Ebro at [email protected].