Pokeprincxss, Colorado E-Girl
The rise and dominance of social media shook loose the stranglehold that old-media gatekeepers had on our entertainment culture. Consumers were no longer spoon fed generic programming as independent content creators developed a massive landscape of niche markets and media roles never thought possible.
One of those content creators is Colorado's own Marrissa Cloutier, better known as PokePrincxss online. The Pokemon collector, social media influencer, gamer, cosplay enthusiast, sex worker and single mother, has developed a strong following and is emblematic of our modern media culture.
Cloutier began creating content as Pokeprincxss at age 18, showing off her massive collection of Pokemon memorabilia, posting body positive selfies and sharing her previous struggles with eating disorders on Instagram. Through her intimate and promiscuous celebration of nerd culture, she quickly began to develop a dedicated following. "I post all my personal life on social media to connect with my followers, it's why I have such a big following, people see how honest I am with myself." Cloutier states. "My fans are basically all my best friends, my followers have been with me for the past 5 years, they saw me start at 18 and grow into the person I am now, they know more about me than anyone, including my family, they know every detail, every flaw, every good thing, and I love them all so much!"
Shortly after she began branching out to new mediums, making videos on different platforms, "Some of my favorite content I've created was on Twitch. I get to play my favorite game in the entire world, Pokemon and have all my followers watch me. It's always so fun doing the live streams because I had so many people in the little chat box talking to me and making it interesting so it wasn't just me sitting in front of a screen playing video games." Expresses Cloutier.
At age 19 her life took a drastic turn when she got pregnant with her son Onix, "He was not planned at all, it was with a guy who basically manipulated me into thinking he was my forever, that was the main reason why we kept Onix in the first place. I thought this was gonna be the love of my life and I'd have this happy little family and it was nothing like that, it was just a train wreck." Exclaims Cloutier. "When I was with the father of my child I had really bad insecurity issues, he cheated on me multiple times during and after the pregnancy. After experiencing all that, it helped me know my self-worth as a person and know that I'm better than the man who tried to destroy it."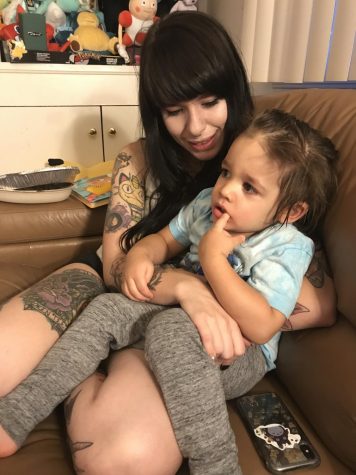 These traumatic and life changing events would cause most people to put their passions on the back burner, her pregnancy and relationship issues only strengthened her connection with her following. While many pregnant women feel the need to only focus on the flowers and butterflies of pregnancy, Cloutier did no such thing, venting about the everyday stresses of pregnancy weight gain, relationship issues and mood swings. Her brutal honesty gave support and encouragement to other young women going through the same situation,  Cloutier states.  "A lot of people would always message me like, 'Hi! I'm pregnant and I'm just letting you know that I'm going through the same thing you did.' Knowing that you got through it and seeing all the stuff that you went through honestly helps me a lot and gives me a lot of confidence"
After a year of infidelity and neglect, her former partner left her high and dry and started a bitter custody battle. All alone and desperate to raise the child she loved, she utilized her internet presence as Pokeprincxss and dipped her toes into sex work. "Basically, I was left with nothing and had to figure out how to fend on my own and make money to support me and my child. So, I made use one of the few resources I had left, which was my social media following. I started making NSFW (not safe for work) content for people I knew wanted to help me out"
Her venture into sex work proved to be successful, giving her an income to support and save for her family. Luckily thanks to modern technology she didn't have to resort to risky escorting, instead making personalized videos from the comfort and safety of her own home
While social media and technology has made sex work safer and helped to normalize the stigma, Cloutier believes that it's given a lot of young girls delusions of grandeur, thinking they can just post nudes of themselves and start raking in the dough. However it's not that easy, as Cloutier put it. "You have to build a profile, you have to build an audience, it's not just something that's given to you. It may just seem like someone's just posting a picture of their naked body and making money off it but it's not that simple. You actually have to think of the content you're creating with the audience in mind, you have to produce certain content for the right consumer"
Our society has trained us to look down on this type of work, but through her experiences she's developed a deep sense of self and confidence. "I feel like a lot of people look down on parents who act out of character or are promiscuous or show a little skin. People think that when you have a kid you have that you basically have to give up your entire life and change who you are but it's nothing like that." Discloses Cloutier. "People who give up themselves so they can raise their kids always end up unhappy in the long run because you're not yourself anymore. People always look down on me for being a sex worker and a mom, but they don't realize I don't mix sex work with my parenting. Just because I'm a mom doesn't mean I have to change myself to please other people"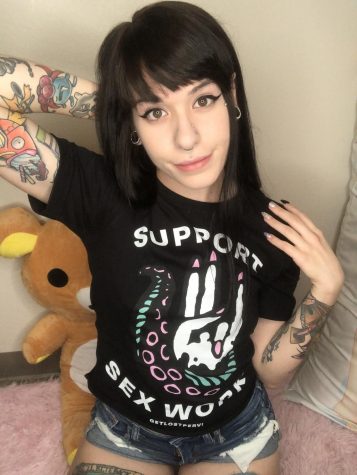 While in the past, sex work could tank the career of any hopeful model or media personality, her NSFW content helped skyrocket her social media presence. So much so, that she started getting offers to work at various anime and video game conventions. Most recently, she ran the booth for Boom! Studios at Denver Pop Culture Convention in Denver in June 2019, "They produce all of the comic books for Power Rangers and Adventure Time and a bunch of others. They reached out to me on Twitter like "Hey we have a business proposition if you wanna hear about it!", they said since they loved my look and how nerdy I am and they offered me to work their booth for all three days of Denver Pop Culture Con," said Cloutier.
As the prominence of nerd culture and normalcy of sex work continues to grow, who knows what the future may hold for Pokeprincxss. Her loving kindness, vibrant sociability, embrace of sensuality and deep passion for her work, led her to make a living for her family on her own terms. As advice to anyone looking to do the same, she states, "Confidence is key to life! The more positive and confident you are, people will start to look up to it! I don't care about what people think, when they're saying, 'wow you're a mom and you're posting this and this and this? Yes, I'm a hot mom and I'm posting all this stuff, and I don't care because I'm making bread off of it!"