LPS Schoolboard Faces Backlash After Vaccine Clinic
On January 27, Littleton Public Schools faced heated comments from the community during a Board of Education meeting. All ten comments were critiques of the District's COVID-19 policies, which were commended with applause from the audience after speakers finished. While two focused on mask policy, the other eight focused on a recent vaccination clinic.
The vaccine clinic was held on January 21, in the student center of Heritage High School from 3 p.m. to 7 p. m. While LPS provided the space for the clinic, it was put on by Tri-County Health and staffed by Jogan Health. Although the clinic did not require those getting vaccinated to show their ID, they required any minor getting vaccinated to bring a parent or provide a letter of parental consent. 
On January 24, two videos taken during the clinic were anonymously posted on the Twitter account Libs of Tik Tok. The first video shows a person checking in at the clinic. They give their birth date as June 3, then hesitate for a minute before giving the year 2001, which would make them 20. They ask if they need to show ID to get vaccinated, to which the staff responds they do not. They are then taken over to a table to get vaccinated, but opt-out of the vaccine before receiving it. The caption of the video claims the student is a 16 year old who lied about their age.
The second video shows a different student check in at the clinic, this time saying they are 15. When staff tell them they cannot be vaccinated without parental consent, they hand the staff a sheet of paper that is accepted as a parental consent form. After being checked in to the clinic, they are led over to a table to be vaccinated, but they hesitate and decide not to receive the vaccine. 
The caption of this video claims that "the Colorado school which held a vaccine clinic during school hours agreed to give a minor a vaccine without a parent present after assuring parents that they will not do this."
After these videos sparked community backlash, LPS Superintendent Brian Ewert responded in an email to parents. "We incorrectly assumed that all vaccination clinics in Colorado followed the same vaccination protocol as Children's Hospital, requiring a parent be present during a vaccination," Ewert said. "We were informed this morning by Tri-County Health that the State of Colorado does not require minors to be accompanied by a parent or guardian as long as parental consent is collected and shared prior to the appointment."
Ewert concluded the statement by sharing that the district does not believe Jogan Health employees followed proper protocol in obtaining parental permissions, which could be "potentially putting children at risk." He also shared that the district has decided to no longer provide spaces for COVID-19 vaccination clinics, stating that "LPS does not condone the administration of COVID vaccines or any other vaccines to minors without a parent present to provide consent."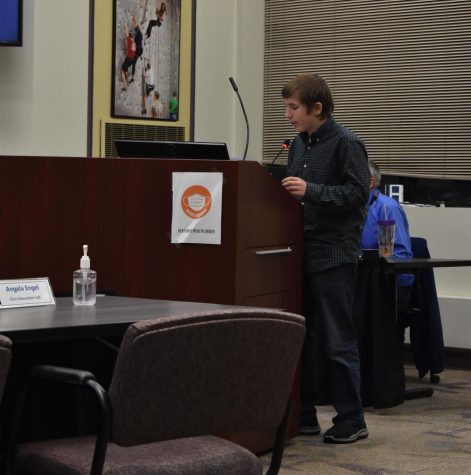 Although the videos that sparked the controversy were initially published anonymously, both students who recorded them revealed their identities during public comments at the board meeting on January 27. 
Alexander Tallentire, a homeschooled 16 year old who took the first video, said he wanted the board to know "they will hold the board accountable for what has happened."
Tallentire lied about his age when he entered the vaccine clinic to see if he would be required to show ID. "I went in there and faked my information on the spot," he said. "Apparently I did a nice terrible job at it, and it sounded very fake." In Colorado, ID is not required to receive the COVID-19 vaccine. 
Owen McGough, a Littleton High School student, recorded the second video. During his comment, he joked about his "sting operation" as an attempt to see if the clinic was following proper protocol. He also revealed there had been a third student who attempted to get vaccinated with them, but he had given the wrong birth date and been denied vaccination because he was a minor without parental consent. 
"I was able to get by with my forged consent form," said McGough. "It just seems to show to me that Tri-County cares more about vaccination than they do about actually following proper protocol." 
Gregg McGough, Owen's father, said he and another parent took their children to the clinic to see how well they were following protocol. After they took the videos, he claims he sent them to the school board on Sunday, January 23, and after receiving no response, published them online the next day. 
During his comment to the board, McGough said he was glad they would not be holding additional vaccination clinics at schools. After his public comment, McGough added that "when I talk to the board I'm mostly talking to the other people that are either watching online, or are going to watch it online later, or the people in the audience. Because a lot of them don't know what I know."