Women's History Month: Honoring Women in Leadership
Second annual luncheon held at Arapahoe Community College.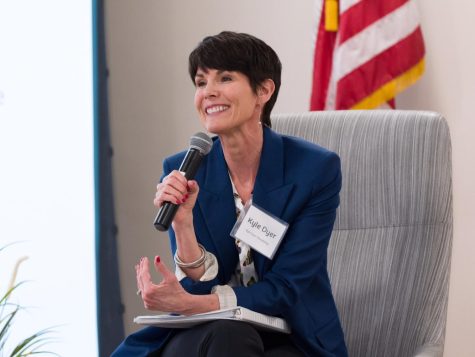 On March 22, 2023, Arapahoe Community College (ACC) students, staff, faculty and community members gathered for the second annual Honoring Women in Leadership Luncheon.
According to the event webpage, the theme in choosing this year's panelists centered around "celebrating women who tell our stories… through their work in fields where their voices resonate with many." This event was also a way for ACC to celebrate Women's History Month, which takes place each March.
Upon entering the event, attendees were offered name tags and provided lunch catered by Jason's Deli. The tables were set with tulips, stickers and miniature lanterns. Over 80 people showed up to hear from the two panelists, Kyle Dyer and Andrea Loya.
Kyle Dyer, a former news anchor with 9News Denver, has a wide breadth of experience listening to and sharing stories. As a woman working in journalism she has helped blaze a trail for other women around her. When listening to difficult stories of trauma, Dyer focuses on the positive aspects and sheds a light on the darkness.
"With every tough story, there's always some [bit] of heroism or strength that I hold on to and those for me are the stories that I like to share," Dyer said. "We need to remember there's always good [in those stories]… [we need to] recognize the good and it's hard. It's hard some days, right? It's hard. But it's there."
Andrea Loya was another panelist at the Honoring Women in Leadership Luncheon. Loya, the executive director at Casa de Paz, provides resources and comfort to immigrants released from the immigration detention center in Aurora, Colo. The emotions run high when Loya listens to the many stories from families.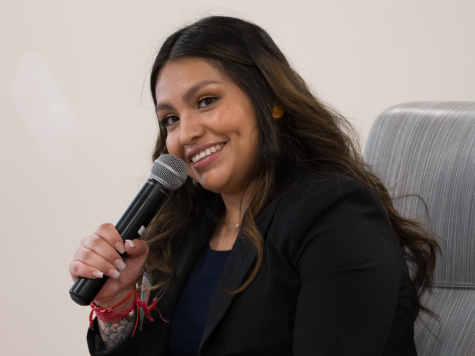 When speaking to the attendees at the luncheon, Loya emphasized the need to not only listen to those around the community, but to also listen to one's own needs.
"We have to take care of ourselves… you cannot help people with an empty glass so you have to fill your own cup," Loya said. "You have to recognize what feels good for you, what your passions are and what you can really do."
Together, Dyer and Loya offered insight into the work they are doing and their personal driving force. These two women are creating change and mindful conversations with those they interact with. They are working to share the stories of their communities. Dyer and Loya are leaving their mark as women in leadership.