Taking On Social Issues One Puppet at a Time
When I heard that "Avenue Q" was coming to the Town Hall Arts Center, I wasn't exactly sure what to expect. It's an R rated musical with puppets! I had never heard of it before, but every person I mentioned it to seemed very excited about the fact that it was playing at the Town Hall Arts Center. I knew I had to give it a try, and found it to be incredible in every way.
The music was inspired, the acting hilarious, and the choreography genius. The puppetry was unbelievably fluid, as if there were no human actors at all! Of course, I expected all that and more; the Town Hall Arts Center never ceases to disappoint.
I knew beforehand that the musical was obscene, zany, and hilarious; What I didn't expect was the extreme social commentary that came along with it. "Avenue Q" touched on multiple social issues happening in our world right now, making them hilarious and lighthearted without being political. Let's take a look at some of them.
Racism
"Avenue Q" touched on the subject of racism in the form of humans versus monsters. The character, Kate Monster, wanted to make a school specifically for monsters; a school where humans wouldn't be allowed to go. The human puppets found that racist, thus the song "Everyone's a Little Bit Racist" was born.  The song featured lyrics like: "So, everyone's a little bit racist. Ethnic jokes might be uncouth, but you laugh because they're based on truth. Don't take them as personal attacks. Everyone enjoys them – so relax!"
Porn
Yes, porn. "The Internet is for Porn" is a whole song about watching it. "The internet is for porn. Why you think the net was born? Porn porn porn!" Realizing the extreme stigma that surrounds viewing porn, "Avenue Q" wanted to break that. And while we're on the topic. . .
Sex
Puppets doing the nasty, who would've ever imagined? During the song "You Can Be as Loud as the Hell You Want", two of the puppets get drunk and get it on.
Let me tell you, that was a bizarre scene to watch, but also well done.
It was funny, interesting, and the song is pretty darn catchy. There are few musicals that feature a sex scene, and when they do it's never as brazen and out there as the one in "Avenue Q." And I applaud the writers for that.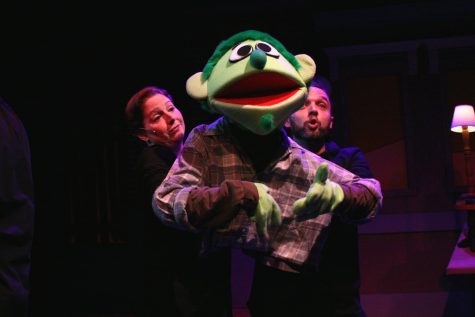 Homosexuality
Of course, they had to include one of the most prolific topics of our time: homosexuality. One of the characters ends up being gay and there is an entire song about it called "If You Were Gay." In my opinion, it is the most catchy song in the whole show. "If you were gay, that'd be okay. I mean 'cause, hey, I'd like you anyway. Because you see, if it were me, I would feel free to say that I was gay (but I'm not gay)." The song is one of acceptance, as is every other song in the show.
To put the cherry on top of an already exceptional performance, there was even a Donald Trump reference at the very end. In the last song, "For Now", the entire cast sings about how both good and bad things are only for now. "Only for now! Sex! Is only for now! Your hair! Is only for now! Donald Trump! Is only for now!" After that line, the crowd erupted into cheers in the middle of the song.
This was one of the best and most interesting musicals I have ever seen, hands down. The direction of Robert Wells and choreography of Nick Sugar were both brilliant. If you ever have an opportunity to see the show in the future, I urge you to go. After you see it, you'll be dying to move to Avenue Q!
Leave a Comment