Chris Daniels and the Kings bring the Funk to ACC
Hang on for a minute...we're trying to find some more stories you might like.
If you missed Chris Daniels and the Kings bringing their rockin', bluesy, funky jams to the Waring Theatre on September 15th, then you missed one hell of a show.
The group performed an intimate set complete with both original numbers and covers of classic songs from other famous artists.  Prior to the performance, Chris Daniels and singer Freddi Gowdy spoke to the crowd regarding their history as a band while also taking questions from the audience.  Daniels believes that the group is currently performing as well as they ever have, stating "back in the 80's we were good.  Now we're better."
The ensuing performance gave the audience no reason to doubt his declaration.  Daniels played his guitar with a bluesy swagger, the Kings provided a crisp rhythm and Freddi Gowdy filled the room with his soulful singing.  Lead guitarist Colin "Bones" Jones provided tasty rock n' roll licks with sharp, bluesy soloing, employing a guitar tone that would make Stevie Ray Vaughan grin.  Trumpeter Darryl Abrahamson and saxophonist Jim Waddell stretched their jazzy notes while drawing impeccable range from their instruments. The group operated as a blues convoy playing with critical awareness of one another.
The group's songs "I Like Your Shoes," "Joy" and "Don't Let Your Mouth Write No Checks" received big responses from the audience, whom Chris and Freddi frequently encouraged to participate in singing or dancing along.  The track "Funky to the Bone" was met with the crowd joyously singing along to the chorus upon Chris and Freddi's command.
It was particularly easy for the audience to get involved when Chris and co. dove into their long-winded rendition of B.B. King's version of "The Thrill is Gone" in tribute to the legendary blues musician.  Another well executed song was their version of the 1970 Chicago track "25 or 6 to 4," which saw the band exercising their masterful knack for rock n' roll.  To cap it all off they offered a soulful rendition of the Mark Ronson and Bruno Mars mega-hit "Uptown Funk," acquiring jovial cheers from the crowd.  The myriad versatility in musical prowess is evident after seeing such strong performances of original cuts mixed with eclectic covers.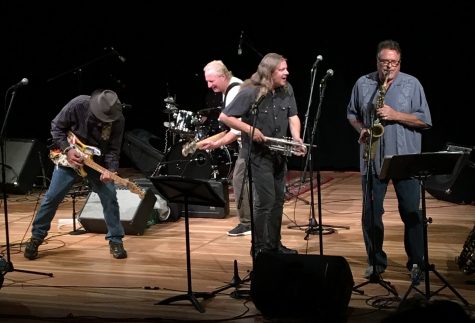 Aside from the wonderful concert, the event was also held as a raffle for a slick Fender Squier Telecaster electric guitar for which all proceeds were a donation to the Leukemia and Lymphoma Society.  Chris Daniels himself is a leukemia survivor who expressed the donations as being "very dear" to his heart.
Also very dear to Daniels' heart is, obviously, this band.  He's been leading his band since 1984, initially performing at least 350 shows a year throughout the 80s and 90s.  They have toured Europe 21 times and have gained a dedicated fan base in countries like the Netherlands and Japan.
All of this experience is considerable for the Waring Theatre seeing as this was the first professional level rock concert that ACC has hosted.  Charles Harrhues, the program coordinator for Music Audio Technology at ACC, organized this event and hopes to host many more in the future.  "We're trying to have more concerts at ACC and utilize the Waring Theatre more," he explains.  Judging from the turnout at the show, those hopes should be fulfilled easily.
In regards to hope; Chris Daniels teaches music business at the University of Colorado in Denver and he believes that the talent coming out of Colorado is "staggering."  He states that students have become "much smarter about the business," and that the music scene in Colorado has grown to become very strong.  With performances like his, it should be attributed that Chris Daniels and his fellow musicians are likely responsible for aiding the growth of music in this state.
Chris Daniels and the Kings' latest record Funky to the Bone is available now at retailers like Amazon.com.  Anyone who reads this should do themselves a favor and pick it up.