Lights Out!
A curious power-out caught the ACC Littleton Campus by surprise at 10:45 a.m. last Wednesday, briefly placing the school in darkness and causing considerable damage to the air-conditioning system.
"I was off campus at the time, tending to business at our Parker campus," explained Sergeant Keith Moreland of Campus Security. "I rushed back immediately once I got the call from my office and the first thing we did was to check whether anyone – physically impaired or not – was trapped in the elevators."
Sergeant Moreland, an imposing figure who embodies the term 'Security', reported that besides a couple of classes being canceled, there were, fortunately, no major incidents reported during the 90-minute power outage.
That morning, Colorado Community Colleges System President Nancy McCallin, Ph.D., paid Arapahoe Community College a visit, to speak with ACC President Dr. Doyle and the student body, about upcoming programs and initiatives designed for students to reach their full potential at the College.
The turnout was impressive that morning. Chili was being served in tribute to the occasion and people began to line up. An excited crowd gathered to hear Dr. McCallin speak, but as she took to the podium, the lights in the hall began to ominously flicker. Before she could even begin, all the lights went out.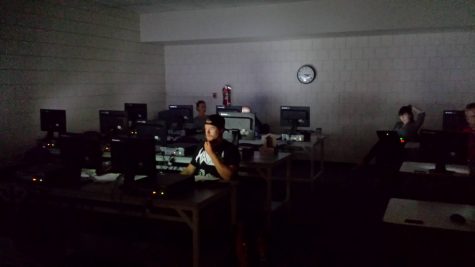 "Although the speech had to be postponed, people didn't mind standing in the dark waiting for that chili . . . in fact the line just kept getting longer and longer," chuckled Jim Provancal the Facilities Manager who was part of the assembly.
According to Jim, Excel Energy said, the transformer that supplies ACC with its power became overloaded on account of the high air-conditioning usage on campus. Apparently, the transformer runs on a 'three phase' current provider. If only one of the phases goes out, this causes more damage than if all three were to go out.
"The reason is simple," explained Jim. "When all three go bust then the power goes out, without causing any fuse or equipment damage. But if only one phase snuffs it, then fuses blow out, light bulbs explode and motors get singed ."
In this case, the cooling tower motor which activated the cooler to provide cool air for the a/c became irreparably damaged. But the $2000 motor replacement was fortunately in stock at the local supplier, allowing Jim and his team to have the a/c back up and running by Friday morning.
Both the Sergeant and Jim admitted to witnessing such an odd event only once before in the last five years at ACC. "It was about five years ago," recounted Mr. Provancal. "That time a garbage truck struck a telephone pole and knocked out the whole transformer. The fire alarm was subsequently triggered and the whole school had to be evacuated."