Graphic Design student Katie Powers finds passion in her Art and Design Center classes
Humans of ACC is a series of Q&A presentations about students, faculty and staff.
Today's focus is on Katie Powers, current Graphic Design student at ACC's Art and Design Center.
Arapahoe Pinnacle: Why did you want to pursue graphic design?
Katie Powers: I wanted to pursue graphic design because I have always been intrigued with how we, as humans, have communicated visually throughout history. Visual communication has had such an impact on our world; I want to be a part of it!
AP: Has graphic design always been a passion for you?
KP: Honestly, no. Not graphic design specifically. That happened later. Starting at an early age, I always knew I wanted to find a creative job. I received my first degree in 2010 with a Bachelors in Fine Art from Colorado State University. My concentration was in Pottery, and my minor was in Art History. I then went to Metropolitan State University to acquire a teaching certificate in Elementary Education. I had every intention of becoming an art teacher, but could only find jobs in the regular classroom setting. When I was immersed in the world of education, and all of its politics, I burned out fast! I missed the art world and decided to get back into it. After trying to figure out what would make me happy, and keep me interested, I decided to go back to school for a degree in Graphic Design. The passion came when I started taking classes. I haven't looked back since.
AP: How do you get inspired creatively with new assignments given to you by your teachers?
KP: Pinterest. I feel a little embarrassed by that, but it is true. I have been so inspired by some of the most amazing designs, logos, branding, and art pinned on Pinterest. I then sketch out layout and ideas. Everything is done on the computer these days, but it is so amazing what a little pen to paper action can inspire!  
AP: What would be your ideal job after leaving ACC? 
KP: I would love to get a job as a Junior Designer for a design house in Denver. I have my eye on a certain company that is very prestigious and has done phenomenal work not just around Denver, but around the world. It would be a long shot to get on with them, but a girl can dream, right?!
AP: What was the last book you've read for fun?
KP: The Nightingale by Kristen Hannah. I just finished it a couple weeks ago, and it has made it onto by top 10 favorite books of all time. I highly recommend it! It is not for the faint of heart, though. I would have a box of Kleenex ready.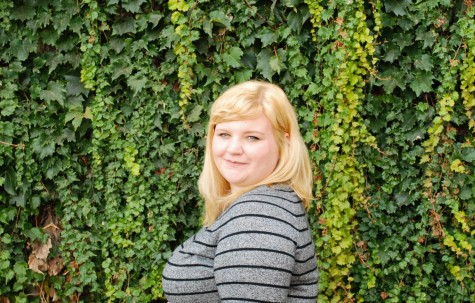 Carolyn Jarvis, Managing Editor, Arapahoe Pinnacle
Carolyn Jarvis is a sophomore majoring in Journalism. Her biggest goal is to transfer to Metro State in the summer and finish up her bachelor's in the same field.

In her free time, she enjoys many hobbies like writing, digital photography,...