A World of Gun Violence and Gun Control
A Review: "People Kill People" by Ellen Hopkins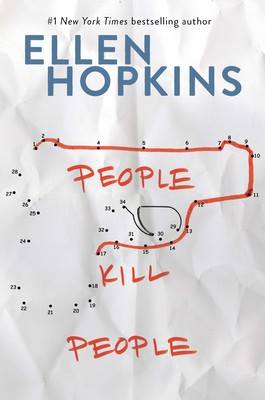 Hang on for a minute...we're trying to find some more stories you might like.
If anyone is familiar with Hopkins' work, her novels all share the same style of writing. Hopkins is a Young Adult author, known for her ten-book series Crank. She uses a poetic format throughout the book, then weaves in a standard format of writing to write her stories, and in People Kill People her style is consistent. Hopkins' novel was released September 4, 2018 and published through Margaret K. McElderry Books, an imprint of Simon & Schuster Children's Publishing Division.
Hopkins' novel is on the subject of gun violence and white supremacy and is based in Arizona. She adds to the beginning of her book an "Author's Note," a disclaimer that the views of the characters in the novel do not reflect her own. The novel's cover art features a picture of a pistol that isn't quite complete; it is instead a connect-the-dots representation of the weapon.
Hopkins starts with 35 pages of poetry. The intro is about an old man so paranoid in his own home he buys a gun, only to shoot his wife on accident. Hopkins begins by giving the reader the feeling that anyone can kill anyone, even oneself.
Her book includes six different lead characters: Rand, Silas, Daniel, Noelle, Cami and Ashlyn. Hopkins dives into the backstory of each character and allows the reader to understand each character personally. Hopkins entices the reader to understand each character's mindset on gun control and immigration. 
All the characters are between ages 16-19. Rand and Cami are a young married couple with a son. Silas is a white guy who is both racist and against gun control; he values guns and protests against immigration. Daniel is an enemy of Silas', he's homeless, and Hopkins dips into some of his mental health issues. Noelle is Cami's younger sister who suffers from seizures and is an in-the-closet lesbian. Ashlyn demonstrates a female version of Silas; they end up having a fling throughout the book, but it's strictly sexual.
Never have I read such a book dividing so many characters. I found I wanted to skip forward and find out what happened to specific characters – but I didn't do it. As Hopkins was developing each character, I got used to it, and I have to say, for having such a large amount of characters to fit into one book she did an incredible job of creating individuality between each character.
After each character's segment she would end with a poem, then lead right into the next character. This style of writing was unique and clever, and it was more interactive as a reader.
What was compelling about the book as a whole was how she created a seventh, hidden character. A gun. Throughout the entire book the gun's section was written in italics and was a negative sort of dark cloud over each character. It would try to push the characters towards picking it up. 
Being Hispanic, this insight into the minds of some of the white supremacists was engrossing, in such a way that was also disgusting. I would get through a racist line, look up and say, "do people really think like that?" It was eye opening in that aspect for myself.
Even though Hopkins creates these characters with their own troubled lives, she twists off the shooter in an unexpected way. Yes- someone does die at the end of a gun, but what Hopkins does is create the shooter in such an innocent and unexpected way. It's to fulfill her title; people do kill people more so than the guns themselves.
Price listed at $19.99 from Simon & Schuster Children's Publishing, at Barnes and Noble for $15.99 and Amazon for $13.51. The book is only available in hardcover.