Rare Triceratops Find Arouses Curiosity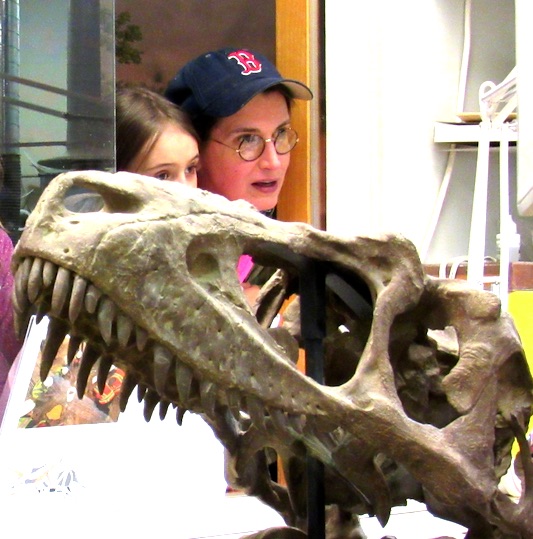 Hang on for a minute...we're trying to find some more stories you might like.
Originally published on Sep. 11th, 2017.
Denver, Sept. 04 – Dormant for 66 million years before being unearthed by an unsuspecting crew of construction workers building a new Public Safety facility in Thornton, the skull of a Triceratops is now awakening the dinosaur enthusiast in us all.
Piquing interest particularly among the young, a motley of thousands flocked to the Fossil Preparation Lab in the Denver Museum of Natural Arts and Science this past weekend, to watch the specimens being carefully curated behind secured, sliding glass windows.
According to Paleobiologist at the Smithsonian Institute, Triceratops, the three-horned herbivore found late last month was among the last living dinosaur species before the inexorable asteroid hit Earth, at the end of the Mesozoic Age.
"We're really excited about this discovery. It's not every day that we find something like this in urban Denver," said Nathalie Toth, Fossil Preparator at the Museum.
Dinosaur finds are indeed rare. In fact this is only the third Triceratops cranium found along the Front Range—the first one ever found in 1887, was also in the Denver area.
"We have many sites in New Mexico, Wyoming, and we even have a project in Madagascar," told Chicago native Toth. Equipped with a BA and MSC in Geology and Paleontology, respectively, she's been with the Museum since April.
Bringing his family to the viewing on Sunday was Danny Wagner, the unassuming inspector on the construction site that discovered the 4000-Pound Triceratops skull.
"I was just standing breaking apart chunks of clay stone when I looked down and found a bone fragment," recalled Wagner in an exclusive interview with the Pinnacle.
"It was brown and porous, so I knew that's where the blood vessels went through the bone. It was just one little fragment about the size of a quarter, so I grabbed my shovel and started digging a little further to expose some more."
When Wagner realized what he'd brought to light, he promptly notified the contractor, who stopped operations to call in the Museum experts.
"They came in and confirmed it was a dinosaur," continued Wagner. "Now I'm here with the family to see what the bones look like cleaned up."
Sunday's arid conditions, with temperatures in the mid-nineties didn't deter visitors from streaming to the Prehistoric Journey exhibition, where the Triceratops discovery was the pinnacle.
So far about 25 bones have been exposed, from the shoulder blade to parts of the brow horns, explained Toth, during a backstage tour of the restricted Fossil Preparation Lab.
Here, qualified fossil curators, working along side veteran volunteers, use fine motor skills to delicately remove sediment from bone.
"I'm the kid who never grew up," mused volunteer Dave Warren, as he patiently brushed away sand from the inside of a large Triceratops rib. "I've been studying this since I was seven years old."
While the Museum hires docents to provide enriching, interactive tours for a variety of visitors, it also engages baby-boomers who offer not only their time but also knowledge, as volunteers. Many have been with the Museum for decades, often bringing experience from related fields.
"My time as an exploration geologist at a power plant in Pennsylvania came to an end when uranium became obsolete," recounted Jim, a 72 year old volunteer.
"My wife got tired of me sitting around the house. She suggested I start volunteering. So, I've been coming here now for more than 24 years."
The buzz around the uncovering is palpable, especially in the quiet town of Thornton. Scientists were initially optimistic at retrieving the complete dinosaur fossil, however, this is becoming increasingly unlikely considering the soft sediment the fossil lay in all these years.  Apparently, a lot gets moved around in 66 million years.
"We have yet to find any of its limbs, or hands, or toes, or feet, or fingers … which is pretty interesting," explained Toth.
Just last week, museum crew excavating the site chanced upon a Tyrannosaurus Rex tooth among the Triceratops fossil. It's speculated the scavenging giant stumbled upon the Triceratops carcass and lost a tooth during a feeding frenzy. The dig continues.