News Update: Colorado Legislature, Colorado Roads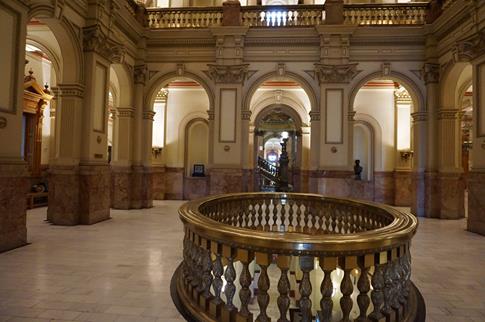 In May 2017, as students were celebrating graduation festivities, Colorado lawmakers were toasting a few accomplishments from their 2017 legislative session.
A bill was approved to initiate a "study" expansion of Medicaid benefits, which will allow more people access to substance abuse treatment.
Another bill approved this session was a plan to overhaul the state's civil forfeiture laws; laws which relate to whether police have authority to confiscate the personal property of suspects.
The child care income tax credit was about to expire, and an extension of that tax credit was approved.
The Legislature also approved a law that "allow[s] the sealing [removal] of a criminal conviction related to marijuana if the offense is no longer a crime after legalization."
Colleges and Universities must now offer academic credit for military experience, in accordance with another measure approved by the Colorado Legislature during the 2017 session.
The people exhaustively working on an all-inclusive bill to fix Colorado roads, however, were met with yet another roadblock. The bill to put the measure to a vote of the people for a modest tax increase—that bill died in the process, along with several others, as detailed by the Denver Post:
Other Defeated Bills
Dueling efforts in the House and Senate on gas pipelines in the wake of the deadly Firestone explosion. Democrats wanted to require mapping of gas pipelines throughout the state, while Republicans tried to put into law a review Gov. John Hickenlooper had requested. Died in the House.
A bill backed by Senate President Kevin Grantham and House Speaker Crisanta Duran that sought to lower insurance premiums for condominium builders by addressing litigation issues. Died in the Senate.
A measure to allow the cannabis industry to avoid a crackdown by federal authorities by reclassifying recreational pot as medical marijuana was watered down at the end. Died in the House.
A Republican effort to issue $3.5 billion in bonds for transportation projects, funded by existing sales tax revenues, appeared in multiple versions. But none of them survived. Died in House and Senate.
A Democratic bill setting targets for emission reductions to combat climate change. Died in the Senate.
What issue was so important that no compromise could be found, considering the condition of Colorado roads?  That remains the question and it demands an answer, especially considering the population growth in Colorado.
A Band-Aid of a measure, which will help fix Colorado roads, was passed in other legislation during the session, but according to experts, it is not nearly enough money. It appears to be up to political groups to get competing measures on the ballot.