Euflora Hosts Successful 4/20 Festival in Denver
Colorado recreational marijuana dispensary chain Euflora successfully sponsored one of Denver's best 4/20 "rallies" to date on April 20, 2018, in Civic Center Park. 
With former nine-year event coordinator Miguel Lopez holding a trademark on the symbolic event name Denver 420 Rally, Euflora decided to name the "new" event this year the Mile High 420 Festival. In 2017, Reginelli of Euflora stated to Westword, "All of Colorado looks at this event. We want to change the perception of what this has become. You can go to a concert any night of the week in Denver. It's not a rally anymore. This is a celebration."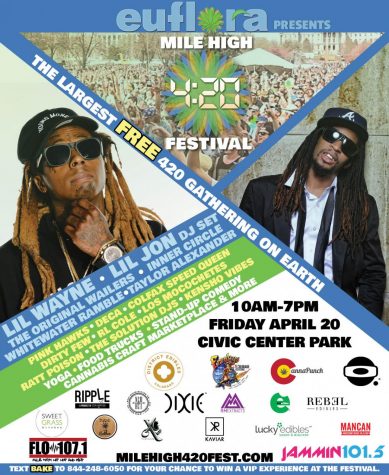 "We don't need no umbrella do we?" shouted the DJ, hoping to motivate the chilly crowd on, yet again, another rainy 4/20 at Civic Center Park. 
Just minutes after the commencement of the annual symbolic 4:20 p.m. cloud, music artist Lil Jon made his appearance on stage in the marijuana capital of America. "Twenty thousand smokers all here with me smoking in front of the capitol building, I can't f—ing believe it," Lil Jon stated in excitement. "I wanna see more smoke."
Rapper Lil Wayne came out to put on a stellar performance as well.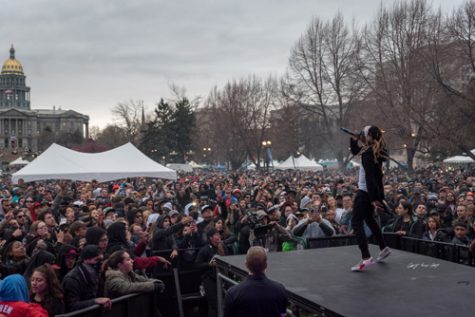 According to "Denver 4/20 Ban Leaves Sponsors Up in Smoke" by Emily Langenberg, Euflora co-founder Pete Barton and his team camped outside Denver's Park and Recreation building for weeks in a dramatic attempt just to apply for the 4/20 event permit. Barton and his crew were able to obtain the permit in November of last year.
Compared to the litter fest of the 2017 rally, Euflora and event staff did an amazing job this year with the cleanliness and security. Trash and security issues were two of the concerns that city officials cited when event coordinator Miguel Lopez was banned from applying for a permit for last year. This year, trash cans were being maintained on nearly every corner, and the event also had walk-through metal detectors at the entrance. 
Unfortunately, the fun ended early for more than 70 stoners. Denver Police issued 72 citations at the event including 64 for public consumption of marijuana. 
Overall, Euflora's camping shenanigans seemed to have paid off.