Bomb Cyclone: The Good, The Bad, and The Snowed-In
Meteorologists had Coloradans on their toes this week, predicting (correctly!) an incoming blizzard that would whip winds up to 80 mph and bury much of Denver and the Front Range in snow. After everyone in the entire city, the surrounding suburbanites and the mountain-town dwellers finished emptying their local grocery stores of bread, milk, and beer, we collectively awaited the incoming storm.
The Bomb Cyclone encouraged the shut down of dozens of school districts and city and state government offices before the temperature had even dropped below springtime temperatures. It was a solid call–by that morning, snow was flying sideways and into miniature tornados, building up in some areas to nearly two feet. Visibility dropped to zero, a hundred cars piled up on I-25, and entire highways were shut down. Denver International Airport canceled all flights. Roughly 300,000 people went without power.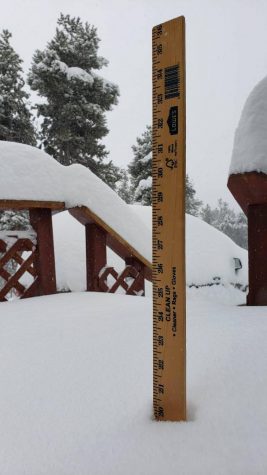 "Do not travel unless absolutely necessary" became the Department of Transportation's go-to warning, and it went duly ignored by enough people that Governor Jared Polis declared a state of emergency and called in the National Guard to help out the hapless hundreds of people stranded in drifts of snow and trapped on highway medians.
Here at Arapahoe Community College, the automated calls and emails went out around 6pm on Tuesday to students, faculty and staff about the full shutdown of all campuses. Come Wednesday night, after dozens of public school districts and municipalities declared that Thursday would also be a snow day, ACC students got restive and made their way to social media.
Commented Vanessa on an event cancellation on the ACC Facebook page: "Classes need to be cancelled! 25 is closed and kids have to travel for school which is not safe with these conditions."
Added Kari, "What about regular class?? It's going to be so difficult to travel in the morning. Not safe!!"
Karen agreed. "200k people around the area have no power, I-25 is close, 86 is pack, gust winds are expect to stop around 6am and Blizzard warning is extended until 6am! What else do they need for crying out loud!"