Interning with the Colorado Press Association: Newspaper media in transition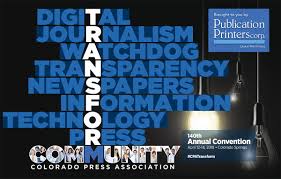 INTERNSHIP NEEDED
Advisor's Note: The Journalism and Contemporary Media Program at ACC requires all degree-earners to find an internship; here is former Managing Editor and Reporter-stalwart Rashid Mohamed's account of his internship with the Colorado Press Association (CPA), which is ongoing:
************************************************************************
Landing a Big One
By mid-January, when the semester began, I was still in search of an internship. But that quickly changed after a brief email exchange and a telephone interview with the Colorado Press Association (CPA)–though the groundwork had been laid the semester before. 
I first learned about CPA when last year, a representative from their association, together with other members of the Colorado Press Association as well as the Society of Professional Journalists, paid our ACC journalism classes and program a visit.
I came to understand that CPA is an association dedicated to the preservation, promotion and progression of Colorado's newspaper media. And as a journalism student in my last semester, I am pleased for the opportunity to work with them and learn more about this industry that is undergoing such a remarkable transformation.
Accordingly, "Transformation and Community" is the very theme for this year's 140th CPA convention, for which I'm currently working on a few projects. The convention is being held April 13-14th in Colorado Springs.
Each year, during the award ceremony of the convention, the CPA honors and inducts three outstanding journalists into its CPA Hall of Fame. I'm drafting an article and compiling a short video for each of the inductees, to be presented at the convention. To complete the task, I've reached out to the inductees and their family members to learn more about them and their life's work.
Another project involves the young 2017 CPA scholarship winners who will also be celebrated at the convention in April. I've invited them all to the CPA office, where I plan to conduct a short video interview with each one. I'll also be writing a preview article on the highly anticipated Lip Synch battle, which debuted at last year's CPA convention.
Let it be said that newspapers aren't dying; they're simply morphing.
Reverting back to their original mission, newspapers adhere to their responsibility to their readers, the service they must provide to their advertisers and their unflinching duty to report the good, the bad and the ugly. At the heart of any newspaper's circulation lies its community. It must be nurtured.
Exciting times lie ahead as I gear up for the convention. Updates on my development will soon follow—watch this space.
Leave a Comment