For the Love of Music!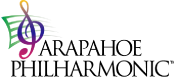 The Arapahoe Philharmonic is playing "Mystery of the Enigma" this Friday, March 31st. The Arapahoe Philharmonic is among the longest established, continuously operating musical resources in Colorado. And the best part? Tickets are only $5 for students. Interested? Head down to Dr. Hidemi Matsushita's (Dr. Mat's) office M1840 to purchase one, or ten! 
Never before has there been a concerto written for the alto saxophone. Join the Arapahoe Philharmonic for French composer Pierre-Max Dubois' Concerto for Alto Saxophone, and hear this wonderful woodwind take its place among the greats!  
Next, hear Enigma Variations, by Edward Elgar, the composer's most well-known piece. Each variation features an intimate portrait of some of Elgar's closest friends and loved-ones, lending a special insight into their individual characteristics and personages. The elusive enigma theme itself has had musicians and scholars clamoring for answers, and has remained unsolved for nearly one hundred-twenty years.  

The concert is 7:30 to 9:30 on March 31st with a pre-concert talk at 6:45 p.m. with Maestro Hughes. Buy your $5 ticket from Dr. Mat down in the music department and head to South Suburban Christian Church for a night of beautiful music. 
South Suburban Christian Church 7275 S. Broadway
Littleton, CO 80122 United States
Leave a Comment