Santa Claus meets Christkind: Denver Christkindlmarkt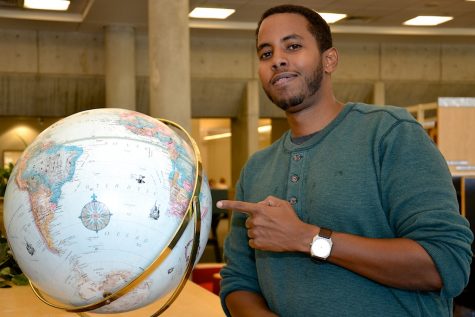 More stories from Rashid Mohamed
Red and white wooden vendor huts with twinkling lights, accompanied by Christmas carols make for a festive mood 'a la Germany' at Denver's downtown Christkindl Markt.
The delectable aroma of roasting almonds and Gluehwein (hot wine punch) will waft at you from afar, quickly taking over your senses.
Nestled beneath the tall Clock Towers at Skyline Park, 16th Street Mall, and Arapahoe St, the Denver Christkindl Markt has been bringing Denverites a taste from the 'old country' for the past sixteen years.
Christmas time is shopping time. With thirty vendors and an authentic beer tent convening each year, between the 18th of November and the 23rd of December, the Market is a wonderful place to buy authentic, original Christmas gifts for loved ones.
Authentic sugar-powdered Austrian apple strudels beckon, while traditional German handicrafts including wooden smokers and carved nutcrackers are artfully displayed beside vendors selling an assortment of winter wear.
Kjersta, a gregarious young woman from Alberta, Canada, comes down each year to sell her gorgeous hand woven scarves and cozy socks, made of premium Andean alpaca fleece.
"Each piece is lovingly handcrafted on wooden looms in a small village in Northern Ecuador. By buying directly from the artisan at a fair market value, we ensure fair and ethical business."
Steeped in a long tradition, the Christkindlmarkt has been a German custom since the Middle Ages, with the first one setting up shop in Nuremberg, Germany around 1600.
The concept of the Christkind, or 'Christ Child', bringing children their gifts dates back to the time of the religious reformer, Martin Luther. During his time, it was tradition to give children their gifts on December 6th, St Nicholas Day.
In an effort to avert from the Catholic venerations of saints and saint's days, Luther resolved to have gift-giving in his own home, on the last day of Advent – Christmas Eve. Curious as to who brought them their presents, Luther told his children that 'Holy Christ' was the silent bearer of the gifts.
Before long, the tradition took hold in Lutheran families, becoming a beloved practice in Nuremberg Germany, by the turn of the 16 Century. This also became a boon for market vendors.
Through the years, the fictional gift-giver became an integral part of Christmas. Traditional German Christmas plays depicted the 'Angel of the Annunciation' with blond hair and wings, giving the Christmas Angel its earthly appearance.
America's Santa Claus, on the other hand, is a charming influence from the gracious Saint Nicholas, who was revered for performing good deeds and loved to gift the poor and needy.
Yet, regardless of who places the gifts underneath the Christmas tree, children (and adults) on both sides of the pond, will be enchanted by a visit to their local Christkindlmarkt.
For more information on the assortment of vendors and goods as well as opening hours for the Denver Christkindlmarkt click here.
Leave a Comment