In High Spirits: Colorado Center for the Blind
Sturdy as the trees that brave the volatile winter weather, the members of the Colorado Center for the Blind here in Littleton are bold and self-assured.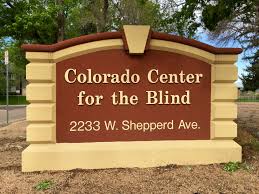 Each day, a number of them make their way to and from the Littleton Railway station guided by keen instincts and the help of a long white cane.  The pathway particularly leading up to the Center is partly unpaved.
They often walk in pairs, but also in groups, and sometimes alone, swirling their canes across the ground like metal detectors, donning amiable smiles that reveal their confident disposition.
"Excuse me, but can you direct me to the Colorado Center for the Blind?"
"Sure, [pointing long white cane up the hill] Just follow the pavement up, and at the top turn to your left. You can't miss it."
ACC is not the only learning center in Littleton.  Atop the small hill behind the light-rail tracks sits the Colorado Center for the Blind, initially founded by Diane McGeorge in 1988; then in downtown Denver. Challenging blind people to reach new heights, the Center grew quickly, relocating to Littleton in 2000.
ACC and CCB have strong ties. Last Friday, CCB students were still excited after ACC Biology Professor Terry Harrison led his seasonal shark dissection demonstration for them.
Dr. Josie Mills, Head of ACC's English Department, performs as visiting Employment Specialist, teaching blind students professional expertise like resume writing.
Almost everyone at the Center is blind, except for a few of the administrative staff.
"This includes the instructors and even our executive Director, Julien Deden," explained Robert Dyson, administrative staff at the CCB.
"It's important for us to know that the Center is being run by people who are also blind. This gives us the confidence to know we can aspire to anything."
Robert Dyson is the man with the cordial smile that greets one upon first entering the CCB. As an administrative assistant, he knows everyone at the Center and functions like the central cog in an intricate Swiss-time piece.
Diagnosed with diabetes at aged two, Robert lost his eyes-sight just before his 21st Birthday. And it wasn't gradual: within three months his vision was gone.
Having attended CCB in 1994, Robert joined as a full staff member and has become an integral part of the Training Center for the last fifteen years.
"We have people attend from all over the country, including a number of international students. Just last year we had a young man from Pakistan attend, and I believe this year we have a young woman from Mexico."
Immersed in a positive, high-spirited atmosphere, everyone is notably pleasant. The CCB radiates a welcoming ambiance, allowing visitors to take a peak at some of the students and instructors in action.
While an array of courses are offered to students, including rock climbing and white water rafting, there are four main categories of instruction: Technology, Home Management, Cane Travel and Braille.
We started in the Home Management class, where just the other day instructor Maureen Nietfeld and her students prepared a complete Thanksgiving Dinner, of course with all the trimmings.
Our next stop was the Braille class that was in full session.  Braille Instructor Jennifer Spears took the time to explain the history and nature of Braille, and how one copy of Webster's Dictionary takes up more than 72 volumes of embossed braille. That's about three volumes for each letter of the alphabet.
The Technology class ensued, where instructor Chris Parsons demonstrated how blind students use a computer.  With software like JAWS — Job Access Without Speech — a computer screen reader program for Microsoft, students can read the screen either with text-to-speech or by a refreshable braille display.
Students who complete the nine month course at CCB forge careers in a variety of fields ranging from lawyers to self-employed entrepreneurs to runway models.
And this is precisely the message given to all students who attend and graduate: take charge with confidence, the future is bright.