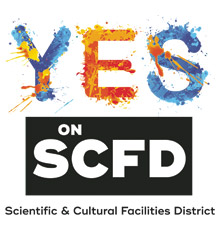 Encore! Encore! SCFD Gets Renewed
The extension of the Scientific and Cultural Facilities District's .01 percent sales tax for Denver's arts and culture passed with flying colors on Tuesday. For the fourth time since its conception, the tax has been continued, allowing the SCFD to fund more than 300 scientific and cultural organizations in Adams, Arapahoe, Boulder, Broomfield, Denver, Douglas, and Jefferson counties. The vote passed overwhelmingly, winning 737,540 votes (62.6%) to 440,175 votes (37.3%).
This is a wonderful decision and assists greatly with allowing open access to arts and sciences. In just 2015 alone, the District provided over $54 million towards the support of culture in the greater Denver area. In addition to that, the funded organizations contribute more than $1.8 billion to our economy and create more than 10,000 jobs. Almost 14 million people, including 4 million children, attend SCFD funded events every year.
The chair of the SCFD Board of Directors, Dan Hopkins, stated on this vote, "SCFD is the bright ray of sunshine voters could agree on. Each time voters have had the chance to register their opinion on the district, we have received a resounding vote of confidence and an acknowledgement that residents recognize the value created by SCFD."
The vote affirms yet again the massive support the people have for the various arts and sciences organizations around our city. By supporting this ballot issue, we have supported the learning and growth of our children and citizens. We have supported wonder and imagination; creativity and expressiveness. And will continue supporting these for years to come, ensuring culture for us all.
I encourage you to reach out and experience the SCFD's impact for yourself! Visit the animals at the Denver Zoo, see a show at the Denver Performing Arts Center, be amazed at the Denver Museum of Nature and Science, and perhaps most importantly, take a trip to your local organizations funded by SCFD and discover the power of culture.
Please share your thoughts. Remember to be respectful. We do not allow solicitation for products in our comment sections and those comments will be removed.
Skip to content