In 1970, 8% of STEM workers in the U.S. were women. Fifty years later, this percentage has nearly quadrupled. Mary Steggall, a professor in nursing and the BSN Coordinator at ACC, was a part of that 8%. 
Steggall obtained a bachelor's degree in biological science at Michigan State University in 1975, and she is still able to recall the first time she was denigrated as a woman in STEM. 
 "One physics professor…said, 'You're an AFAC [Affirmative Action Recipient] and you're a girl and you're in my class?'" 
Steggall belonged to not one, but two minority populations at the school. She was a beneficiary of the affirmative action program for being a low-income student. Due to her family's financial circumstances, she didn't plan on attending college, but this program and government funding allowed her to enroll at MSU to fulfill her aspiration of becoming a scientist.  
While she was obtaining her bachelor's in biology, she also minored in physical science, math, and secondary education. She then went on to obtain her master's in biophysical chemistry at the University of Utah and her bachelor's and master's in nursing at Regis University. Steggall holds a total of seven degrees in higher education. The affable, soft-spoken professor doesn't parade these credentials; her modest attire is a reflection of her disposition.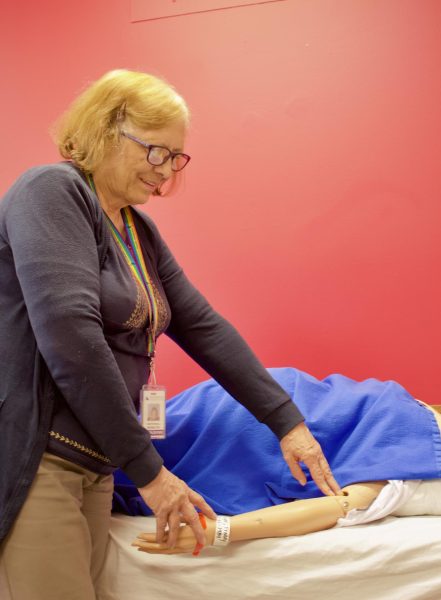 As a pioneer in the field, Steggall witnessed the treatment of women in STEM pivot "180 degrees" throughout the years. When she first began her career in the biomedical device industry, there were very few women in her line of work. As an educator today, she has seen a substantial increase in women pursuing STEM and a decrease in discrimination against them.
Although Steggall loved working in the biomedical device industry, having children prevented her from satisfying the traveling stipulations her position demanded of her. She decided to leave the field and fulfill her dream of going to nursing school, so she came to ACC to reacquire some of her expired credits in 1994. Since her previous degrees qualified her to start teaching at the school, she became an instructor in 1995 and has been teaching here ever since. 
As a faculty member of nearly 29 years, the gregarious professor's favorite part of the job comes as no surprise. 
"Students. Talking to students," she said. "Seeing them be happy when they learn." 
Steggall has been teaching in the nursing department for about 15 years and has recently taken on the role of the RN to BSN completion program chair. Due to a shortage of registered nurses, Colorado legislature enacted a bill in 2018 allowing community colleges to offer a bachelor's degree in nursing. When ACC chose to implement the program, Steggall and a few other faculty members were responsible for creating the curriculum. About 50 nurses have graduated from the college's BSN program in the past four years. 
In addition to building curriculums, she recognizes her greatest accomplishment as helping students and "getting them to a job that they can be happy with and help people in." 
Most of Steggall's students are women in STEM; what was once one or two female peers is now hundreds of female protégées. She didn't just witness the 8% increase four fold, she cultivated its growth.