Maintenance staff's Shecobie Richardson is pro musician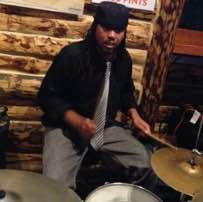 Hang on for a minute...we're trying to find some more stories you might like.
Humans of ACC is a series of Q&A presentations about students, faculty and staff.
Today's focus is on Shecobie Richardson, Current ACC Maintenance staff employee and member of local bands, Chemistry, Seduction, The Carl Thomas Trio and Vintage 3-D.
Arapahoe Pinnacle: You've worked for ACC since 2008, but not many people may know that outside of school you play drums professionally. When and why did you start playing?
Shecobie Richardson: Yes, I'm a percussionist, I started playing drums in the third grade at Steck Elementary School. My journey began with a trumpet teacher who knew how to read music and he taught me to read music also, there I began.
AP: Which famous musicians do you admire? Why?
SR: Famous musicians I admire? Why? That's a tough question to answer, there are so many great musicians in the world. The most memorable for me is Jeff Hamilton, a great jazz drummer who was my private teacher. I met him in Vail at the Vail Jazz Camp after doing a Duke Ellington competition in New York. He gave me a lesson on drums and one of his custom-made drum sets. I'm still impacted to this day!
AP: What are your fondest musical memories? In your house? In your neighborhood or town?
SR: One of my fondest memories of music is going to church two times a week listening to the blues, "down home blues" and I was exposed to a variety of music from classmates at the Denver School of the Arts. In my neighborhood, there were a lot of boys and girls organizations around me. Glenarm and Red Shield both had drumlines, both were a part of the community for kids to have an outside group to help them with their educational needs. I became a member of the Red Shields drumline, called The Starlites and I also became a teacher, I was able to pass the torch. Practicing with the students and hearing the drumlines getting down made me feel like a part of a unified structure and I love making people move their feet!
AP: Do you get nervous before a performance and what advice would you give to beginners who have problems with nervousness?
SR: There's always a sense of anticipation before playing and you never know what the response will be from the crowd. That I appreciate. My advice to beginners is to just take their time.