How COVID-19 Impacted Live Music in Colorado
It's undeniable that the COVID-19 pandemic has significantly impacted the music industry, especially live music in particular. In March of 2020, many shows and tours got cancelled or postponed to later dates. A handful of music venues such as 3 Kings Tavern, Live @ Jack's and Bowman's Vinyl & Lounge permanently closed their doors, and others such as The Oriental Theater and Hi-Dive were at risk of closure. Overall, the lack of touring and lack of concerts in general severely affected the flow of income for many concert venues and any music industry professionals who worked in live music in some capacity.  
Liv Thrush started working for Denver Live Nation in 2017, primarily working in security or hosting shows and doing so at Marquis Theater and Summit Music Hall. On top of that, she is a concert photographer, and quit her job at LiveNation to begin working as a full-time photographer not long before the pandemic started. 
"When there were no shows, there was no work for me," Thrush said, "If there were no gigs, if there were no shows, I didn't have a job. For a while, I didn't have a job at all, so I had to get a day job again."
Alex Mackenzie-Low, who works as a sound engineer for many venues and a talent buyer for Moe's BBQ in Englewood, has been working self-employed in the music industry for years and lost his main source of income when shows began to get canceled due to the pandemic. 
"It just basically turned everything upside down," Mackenzie-Low explained, "I had to cancel hundreds of shows and go from making a steady income in the music industry to zero income."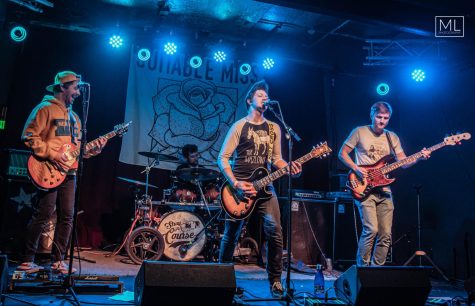 Julian Argabrite previously worked as a doorman for a few venues within the state including Larimer Lounge, Lost Lake Lounge, and Globe Hall. "I know there was a lot of hours that needed to be cut, even when shows needed those extra hours," he said about the pandemic's initial impact on the venues he worked at. "A lot of extra stress got put on a lot of different employees because the volume of shows wasn't enough to support the amount of employees as far as income goes, you know?" 
Zak Begley, a stagehand for RiNo Staging LLC, primarily works at large arenas such as Ball Arena in downtown Denver, 1stBank Center in Broomfield, and occasionally Red Rocks Amphitheatre in Morrison. Typically, he helps with loading equipment in and out of the venue, setting up or tearing down the stages, or assists with audio, visuals, or lighting for a show. 
"Around a month in, everyone went home. When we actually were able to come back, this took about a year. I was definitely on unemployment for a while. Then, after maybe half a year, it felt like things largely returned to normal," Begley said.
When Begley did return to work, the venues he worked at put multiple precautions in place, including a mask mandate, a temperature check and limiting the amount of people within the crews that were working individual shows.  
"When they first started coming back, I think we were being offered less gigs. Initially, I think they did have a bit of a limit on how many people could go to the venues and there were only venues open of certain sizes, so I was going downtown or to areas of town that I had been before to go to smaller venues. The big difference was that we were going to smaller venues with smaller crews," he explained.
He said that these venues have still been enforcing precautions, as all employees are still required to wear masks indoors and have to arrive to the venue early in the day for on-site COVID testing before beginning their shifts. In addition, he mentioned that "gigs have slightly been off and on" for him, as the Delta and Omicron variants of the virus led to more restrictions being set in place within the area. 
A lot of venues also enforced precautions for not only the employees working those shows, but also fans who were attending. Masks became required by certain venues, alongside proof of a COVID-19 vaccine and/or a negative test result within a certain period of time. 
"We had to adapt and change some policies, especially during the peak times of COVID. We needed to make sure everybody was separated, so there would be seats for shows rather than standing space. We'd have to check vaccination cards to make sure that people were fully vaccinated and had to make sure everyone was wearing their masks. Those three venues were following the policies of Denver itself. When I was there, I think the capacity was 50 to 100 people lower than it is now," Argabrite said about the rules his prior workplaces enforced. 
Many concert photographers and videographers have been following similar precautions as well. Certain venues and artists have required photographers to wear a mask, have negative COVID-19 test results, and show proof of vaccination in order to enter the photo pit – an area between the barricade and the stage that those with media passes have specific access to.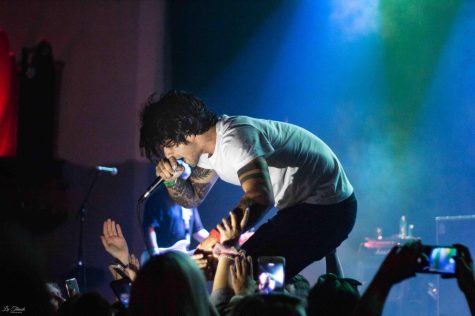 Thrush is also self-employed and does promotional photoshoots for bands in addition to concert photography, and she has implemented precautions into that sector of her work. 
"When I first started doing photoshoots again, which I want to say was the end of 2020, I was wearing a mask at all times. We were six feet apart and I wasn't able to show them any previews or RAWs of any photos I had just taken," she explained.
Another thing that changed during the pandemic was ticketing. Many venues have switched to digital tickets only rather than physical tickets, and ticket prices have increased in order to help the venue employees recoup from the finances lost in 2020. 
"The ticketing has changed quite a bit, because we don't do physical tickets anymore. We used to give physical tickets to the bands to sell, but we don't do that anymore, it's all digital. We have raised our ticket prices since before COVID, mainly because of inflation and how it's hard to make the numbers work out with our old ticket prices. Prices have gone up dramatically," Mackenzie-Low said. 
Although the last few years have caused financial hardships for those who work in live music, he is hopeful that things are seemingly starting to improve. 
"We had to lay off our production manager, our marketing director… all sorts of people helping with shows," Mackenzie-low explained, "Hopefully, now that things are starting to stabilize, we can hire more staff back on to help with shows again."