Lessons in Leadership: A Luncheon Inspired By Women's History Month
To honor women in leadership this past March, Arapahoe Community College (ACC) held a luncheon which featured a panel of three influential women. All were invited and welcomed to the luncheon, setting the tone for inclusivity and diversity within ACC.
Lunch was provided by the GraceFull Café, as well as a variety of desserts. Thoughtful quotes on the empowerment of women were positioned at each table. Guests were gifted tote bags labeled with inspirational messages related to Women's History Month. The room was bustling with teachers, staff, and students alike – everyone mingled at their respective tables before the panel began.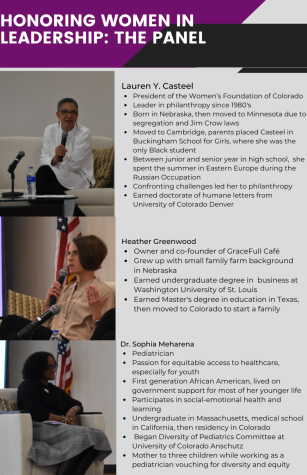 An advisor introduced the three honorable ladies: Heather Greenwood, Dr. Sophia Meharena, and Lauren Y. Casteel. A diverse and unique group, each of them contributed with their stories of overcoming strife while learning how to become the most effective in leadership.
"
"Being a leader is more than showing people what needs to be done, but a role model that leads with integrity, active listening, empathy, and [being] a good communicator.""
— Kayla, peer academic advisor at ACC
Greenwood is the owner and co-founder of GraceFull Café and the GraceFull Foundation. She is devoted to feeding and fulfilling her community, regardless of their individual situations. The GraceFull Café, located in Downtown Littleton, is a non-profit that offers meals at an optional price to support the foundation.
Heather Greenwood knows the value in community, especially when it comes to revitalization through good food. Greenwood stated, "maybe you can pay a dollar for your meal, maybe you can pay half of the cost, maybe zero. It doesn't matter to us; we just want to build a relationship with you across the table." Born and raised with a farming background, Greenwood's work ethic served her well as she moved through her journey in leadership.
Dr. Sophia Meharena focuses on her passion within her practice: primary care pediatrics. Dr. Meharena devotes herself to diverse families with limited resources. Being a mother to three Black children and the daughter of Ethiopian parents, she acknowledges the hardships her own children endure with the current state of the nation. She strives to serve with her idea of leadership, which is to teach and inform. "Your struggles really do inform who you are, and who you are informs what happens around you and how you respond to that," she said. Dr. Meharena aligns with the idea that leadership isn't a textbook-type lesson one can learn.
"Your biggest experiences in learning are not going to come from the classroom – sorry, I know we're at school, but it's going to be your experience in that classroom," Meharena explained, knowing her journey as a leader was filled with highs and lows.
Lauren Y. Casteel is a philanthropist and President of the Women's Foundation of Colorado. She is the first Black female CEO in philanthropy in the country. The foundation is "dedicated to catalyzing community for the advancement and acceleration of economic opportunities for Colorado women and their families, regardless of background or identity."
She shared her experience as a woman of color in a world of autocratic academia. She took care towards her own education as she lived through the struggle of oppression in America, survived Eastern Europe during the Russian Occupation in the 1970s, the death of those closest to her, being harassed and assaulted in Czechoslovakia at 16 years old while disabled, and the emotional baggage that came from it all. "What I learned is what it means to be someone who is not in the place that welcomes you as home…" Casteel explains. "That vulnerability became a gift for me, to be able to translate that to others."
Each speaker answered questions from the audience, received appreciation, and began thoughtful conversations with participants. Topics touched on self-care, inner healing, and how to lead effectively.
"
"This is a gift, to be inspired by these two women and to hear their stories… because you need encouragement as leaders.""
— Heather Greenwood
The three women shared their personal experiences within their journeys in leadership, showing honor and humility through this event. They expressed feeling heard and seen through the luncheon, especially by the community of ACC.
In closing, Casteel states, "you have sat here, and you have listened to us, when I know that each and every single one of you could say something that would inform me, that would bring me wisdom, that would make me laugh, which is part of the balance and healing I find in my life."