Faces of ACC: Howard Golden
From zoologist to web developer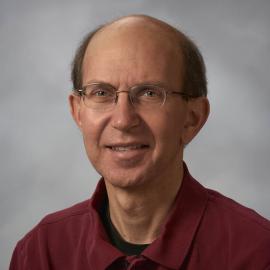 If you have spent any time on the Arapahoe Community College (ACC) website, you're familiar with Howard Golden's work. Golden has been the college's web developer for the past 13 years. Although his work is mainly centered around the website, he says his position includes anything that requires programming at the college. 
Golden didn't start out in web design. With a bachelor's degree in zoology and master's degrees in both biomedical/clinical engineering and exercise physiology, he took an unexpected path to his current field.  
It didn't take him long after college graduation to decide zoology was not for him, Golden says. After a brief stint working in zoology, he returned to school to earn his master's degree in exercise physiology at the University of Maryland. Then he hit a roadblock. He discovered jobs in the exercise physiology field were scarce.  
"That was a long time ago," Golden says. "There are a lot more jobs in that area now, but not then. That's when I decided to switch over to biomedical engineering." 
Golden received his master's degree in biomedical/clinical engineering at Ohio State University and began working as a clinical engineer in hospitals. This is when his transition into computer programming happened.  
"I started doing programming for the clinical engineering department, mostly self-taught," Golden says. "I was doing things they needed done that their IT department never had time to do." 
The next phase for Golden was to start his own web development business. After 10 years of working for himself, he learned ACC was looking for a part time web coordinator, which eventually led to his current position as a fulltime web developer for the college. 
When not at work, Golden says cartoons and comic strips are one of his hobbies.  "Mostly I just read them," he says with a laugh. "I do a little bit of drawing, but I'm not really very good." 
He says he has more talent as an amateur photographer. He enjoys taking photos while hiking and camping with his family. "I do nature photography and landscapes," Golden says. "Hiking is a big part of my life, and I've always got my camera when I go." 
Golden does not keep up with the zoology or biomedical fields much anymore, he says. Aside from his work and hobbies, his kids keep him busy.  "Taking care of my 11-year-old twins is a big part of my life these days," Golden says.