Review: Intergalactic heavy metal band is out for blood in Halloween set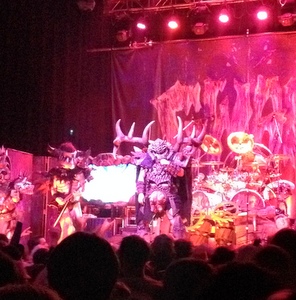 Jake Tharan, Arapahoe Pinnacle Music Critic
November 3, 2015
Hang on for a minute...we're trying to find some more stories you might like.
Intergalactic heavy metal band Gwar was kind enough to pay a visit to Colorado for a blood-soaked Halloween performance amongst us humans.
The Summit Music Hall in Denver accommodated Gwar's over-the-top live set, much to the satisfaction of the fans. For the past three years, the axe-wielding space aliens have brought their live mayhem to the Summit, including multiple sold-out evenings.
It seems fitting: Who wouldn't like to see space aliens playing guitars and drums while being sprayed with fake blood?
The Summit's balcony as well as its newer speaker system were tarped off in preparation for Gwar's theatrics.
The band regularly includes non-members dressed up as famous figures on stage to be "killed," thus enabling the audience to be sprayed with fake blood.
Members of the band typically will battle these characters with swords or other weapons and proceed to decapitate or dismember them.
This sounds outrageous, and it certainly is.
The fans absolutely love it, though. Once the fake blood meets the faces of the crowd, wild cheers fill the building.
It is common for attendees to wear plain white T-shirts to Gwar's live mutilation mass, often serving as a souvenir from the onslaught. Should viewers be standing on the Summit's open floor directly in front of the stage, the white of their shirts will be turned red quickly and without mercy. This venue is perfect for such a night of violence and obscenity.
It is almost impossible not be sucked into the mosh pits of this bloodbath, as the whole floor comes alive with bodies flailing about.
Imagine being surrounded by a mass of people, all soaked with fake blood and throwing themselves into one another, while being treated to an audio assault by dudes dressed up as alien creatures with guitars, basses and drumsticks in their hands. Sounds like one hell of a twisted ceremony doesn't it?
The band members aren't the only beings in the building sporting ridiculous costumes. Many in the crowd arrive at the Summit's doors dressed in various outfits.
This Halloween we saw Jesus, angels, Satan, zombies, vampires, police officers and priests enter the venue for the chaotic show. Past attendees have included Gumby, robots, banana people, aliens, gorillas and super heroes. The members of each of the opening bands also followed suit, sporting their costumes.
Yes, a show put on by space aliens draws in all sorts of people and monsters to take part.
Upon exiting the venue, one will see the majority of the crowd soaked in blood and other fluids as they leave.
It must be quite a sight to passers-by on Blake Street.
Such an experience is best at smaller venues like this for a truly intimate night of music and monsters. Multiple high-profile concerts were performed in Colorado this Halloween, but none was more fitting to attend than this heavy metal Halloween party of galactic proportions.