Review: King Diamond is great act for Denver's venerable Fillmore Auditorium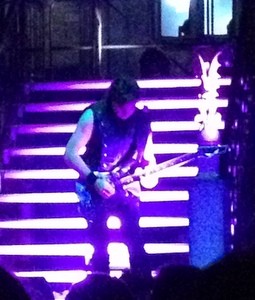 Jake Tharan, Arapahoe Pinnacle Music Critic
November 3, 2015
Hang on for a minute...we're trying to find some more stories you might like.
If you're new to Denver, the older but marvelous Fillmore Auditorium on Colfax must be added to your list of venues to attend a show.
Last week, the historical venue hosted a couple of legendary acts in the heavy metal realm. Danish band King Diamond and California thrashers Exodus brought a night of musical prowess to the stage at the Fillmore.
This indoor standing-room venue is the largest in Colorado for general admission, and is ideal for unique performances from any genre of performer. Walls of sound fill the venue and provide a quality experience for audiences.
It is, indeed, as loud as is any indoor venue but not to the point where a headache automatically comes with the sound – though this type of show is specially formulated to induce head banging, which may lead to a slight headache.
The impressive stage setup of King Diamond included staircases on either sides of the drum kit complete with a balcony overhead. Gargoyles towered overhead and a screen which displayed haunting images was utilized as the backdrop. A visual display of this nature is greatly complemented by the stage of the Fillmore Auditorium. This stage allows for many props and theatrics as well as enough wiggle room for band members to move freely.
Audience members will not be disappointed with any vantage point in the building. Though most stand, some seats are along either side of the open floor, which has a sizable capacity.
Concert-goers can relax on the sidelines or be flattened by the chaos on the floor amidst the energetic fans. It's definitely a comfortable setting, whatever your fancy.
Multiple locations within the venue offer man's favorite beverage, as well. Large bars are on either side of the floor, and a small one is on the floor itself. The availability of beer at the Fillmore is flat out impressive.
The walls of the Fillmore are adorned with portraits of past performers of the Fillmore's stage. Many recognizable acts are displayed in the pictures, and it greatly enhances the interior of the building. So if the band on stage at the time sucks, simply direct your attention to the right wall of the venue to view stills of many great bands.
Illuminating the building are chandeliers hanging over the dance floor. They also enhance the interior of the venue, giving it a less modern look which is certainly pleasing to the eye.
During performances, the lights on stage greatly add to the visual display of any act on stage. That, in addition to any given band's own light show, makes for a wonderful display of color and illumination.
Keep a close eye on calendar at the Fillmore Auditorium. It is consistent in booking quality varied acts of national acclaim.