Review: 'One Flew West' has the usual instruments — and a cowbell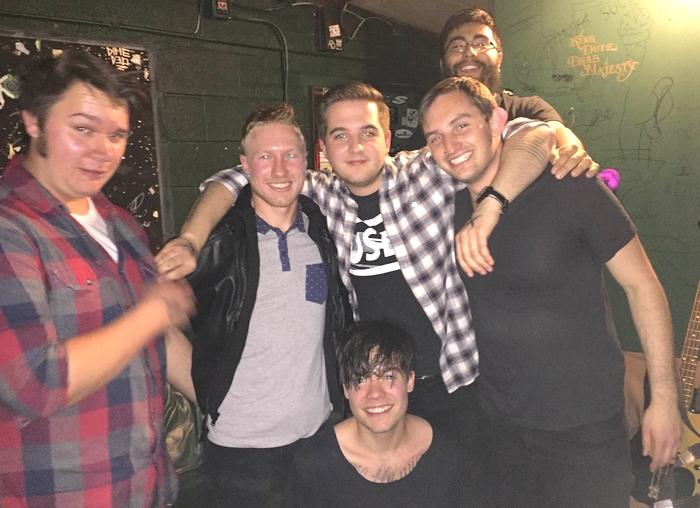 This band comes with some edge.
One Flew West has six members, all of whom are young and ambitious.
One Flew West classifies its music as "rock with an acoustic guitar and a trumpet," said Jonah Bartels, drummer. The band recently played a sold-out show for its EP release Selective Memory at the Larimer Lounge in Denver.
The members are:
• Jonah Bartels – drums, percussion
• Linden Jackson – lead vocals, acoustic guitar
• Dillon Mount – keyboards
• Joe Pineda – trumpet, rhythm guitar, vocals, cowbell
• David DiSalvo – lead guitar, vocals
• Jordan Gurrentz – bass
The good news for the band is that Gurrentz was at its Oct. 29 performance. But the bad news is that he is leaving, having been offered a job at Paradigm Talent Agency in Austin, Texas. The other band members are happy for him, but say he will be missed.
Their favorite venue is the Fox Theatre in Boulder, which is near where they lived when they started the band. This is a venue they love to perform at and "can't wait to play [there] again."
"We grew up 20 minutes away in Longmont, and the Fox was always the holy grail of what we wanted to do as a band," Bartels said.
Looking to the future, the band hopes to be touring in the next year. They have a West Coast tour planned.
One Flew West has had some bigger performances with the help from radio 93.3. They were the one of the top three bands in the Hometown for the Holidays competition and played Keggs and Eggs in March at Lodo's in Denver. This has been their biggest accomplishment as a band. They opened for The Dirty Heads, 3OH!3 and Brick + Mortar.
They are grateful for the help from 93.3 and even more grateful that people keep listening to their music. It is what gives them the opportunity to continue playing shows.
The members work well together, and you can see this when they perform. They use one another's energy, and are able to make the crowd dance. The music has a great beat, and it is hard to not want to dance to it.
A key factor that sets them apart from other bands is their trumpet player, Joe Pineda. Pineda pulls a stunt at almost every show, and this has become ta trademark.
"Joe rips his shirt off and rocks out on the cowbell," Bartels said. "This has become a signature of ours. [Also, there are] borderline riots that take place in the audience when he runs in there with a cowbell [which] are hysterical."
These musicians are great friends, which is one of the things that makes this band work. They understand one another and know what to do to keep improving. They have been friends since they were kids.
The name of the band came from a favorite novel, "One Flew Over the Cuckoo's Nest." It was changed to that in July last year, after they started as Continuum (in 2010). The One Flew West name helps distinguish them from other bands, they say.
YouTube