A Passion for Chocolate Mixed with a Love for People: That's A Recipe for Life
The mind and heart behind the healthy chocolate sensation.
Some may dream of a world where chocolate takes center stage, where it answers every question we ask, solves every problem we have, and cures every ailment we suffer. Few people dare to make that dream a reality, but Julie Nygard, founder of The Chocolate Therapist, is making it her mission to take the world by chocolate storm, one mouthwatering bite at a time.
Nygard opened the Chocolate Therapist, located at 2560 W Main St., Littleton, Colo., October 2008. It was a time when our country was in the midst of a recession, However, due to Nygard's can-do spirit, she managed to successfully launch a business that 12 years later is still thriving. Her mission, "To touch as many lives as possible in a positive way."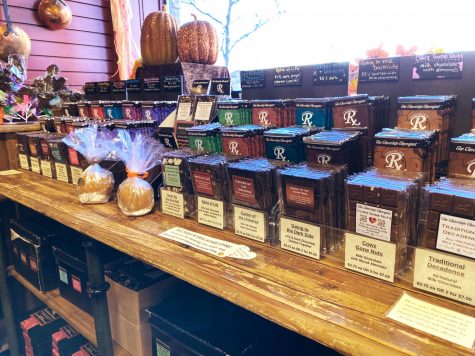 On the surface, Nygard is a casually elegant woman, with a voice as silky and sultry as the handcrafted, all-natural, clean ingredient chocolate she creates in her beautiful chocolate shop. Spend a few minutes with her, and you will quickly see her goals stretch far beyond being a successful business owner. She has spent years speaking about the health benefits of chocolate. She has authored five books, spoke at numerous corporate events, and has given a presentation at TEDx, Cherry Creek, something she dreamed about doing for years. She confessed she has a dream board and posts signs all over her house of the things she wants to accomplish. She is an songwriter, pianist, and jazz singer. Nygard makes no apologies for being driven, in fact, she says, "I wake up, and I'm not gonna sit around, not for one minute. I'm always going to be doing something; it gives me anxiety to just hang out and do nothing."
Covid has touched Nygard's business the same way it has affected all small businesses across our nation. What hurt the most was the lack of foot traffic during April, May and June, fewer than ten people per day would enter her shop (a typical day pre-Covid would average 100-200). However, according to Nygard, business increased online first quarter. She said, "people went crazy ordering online" and attributes the online success to the timing of Easter and Mother's Day. Knowing that raw goods in the supply chain could take between 4-6 weeks to receive, she prepared for Christmas 2020 by preordering everything she needs to stay ahead of the curve in September.
About managing people, Nygard says, "It's a big responsibility being a business owner." She says she understands people and the importance of giving compliments and creating a team.
Nygard's concern for other people reaches well beyond the kitchen, where she conjures up healthy chocolate treats. She feels compelled to give as much as she gets. She receives anywhere up to 500 requests for donations per month, and although she cannot give to each one, she says, "I almost know inside if I'm supposed to help somebody, it's weird. All of a sudden, I'll be like, oh, I'm supposed to help this group." Nygard says, "You're just called from within on certain projects." One of those calls she responded to was donating to a battered women's cause. In this time of Covid, domestic abuse has risen severely, according to WebMD.
Nygard's need to touch her community doesn't stop there. Last Christmas, Nygard says she sent out holiday baskets to helpers at several different healthcare facilities. She believes that while the healthcare workers and volunteers are taking care of those in need, they need to be taken care of as well, "They're the bricks, they make it happen." She has set her sights on being a philanthropist and dreams of the day she can participate in The Giving Pledge https://givingpledge.org where she gives away 90% of everything she has.
Nygard has a discerning palette for chocolate after tasting chocolate bars from all over the world for over four years. She has honed in on what she considers premium flavor, chocolate that is, "rich, delicious, unique flavor without any bitterness." She has that same palette for appreciating characteristics in people. When asked who has influenced her life the most, she quickly rattles off Oprah Winfrey, Richard Branson, Angelina Jolie, Deepak Chopra and Warren Buffet. She has a reason for choosing each of them, the common denominator; they give with heart.
Nygard appreciates her business being in a town where there are "cool little dynamic shops that are unique to Littleton." She appreciates how "really great" the landlords have been to work during the Covid crisis.
When asked what the future holds for her, Julie Nygard, The Chocolate Therapists, says, with a knowing smile, "I have a lot of drive for creating a meaningful life, I just wanna look back and say, yeah, I did that."
The Chocolate Therapist is located at:
2560 W. Main St., Littleton, CO
Temporary Hours 11 a.m – 4 p.m.