Hunger Banquet
We all come from different social classes, and some of us go through socioeconomic disparity and or food insecurity. Food insecurity is the state of being without consistent access of sufficient, affordable, nutritious food. Because September is Hunger Awareness Month, the Student Life Office put together a Hunger Banquet intended to give ACC students and staff an interactive experience examining the issues of socioeconomic disparity and food insecurity. The growing rates of population and poverty make food insecurity all the more common.
To begin the experience, you are given different colored cards that tell you where you are sitting. There are three different tables: one with a deep purple tablecloth near the stage, another one in the middle with a red and white tablecloth and a table in the back with no covering. You are assigned these tables based on the actual income your household makes a year. When I was given a card, I was placed in the middle table with the picnic tablecloth.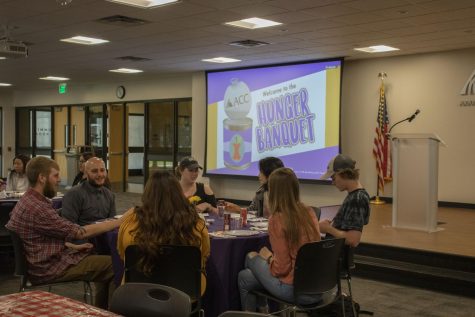 The upper class were served drinks and appetizers first, while middle and lower class were left to watch them. As of 2016, 49.6 percent of Coloradans were considered middle income families. The lower-income class sits at 32.1 percent. And the upper-income class is 18.3 percent, according to the study.
Speakers discussed hunger and food insecurity, as well as the struggles that students at ACC could or are going through. Speakers included Dan Balski, Director of Student Life, Brian Bator, Coordinator of Student Organizations and Wellness Programs, and some of the student government.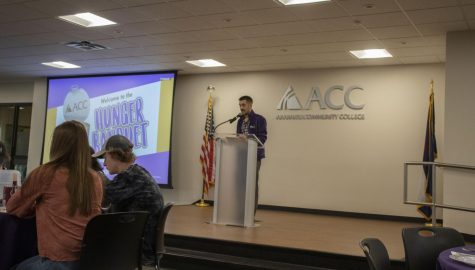 Attendees were then separated even more; the upper class was served sushi, the middle class ate Noodles and Company and soda, while the lower class had chips, ramen and water. This demonstration showed differences of food choices each class can "afford."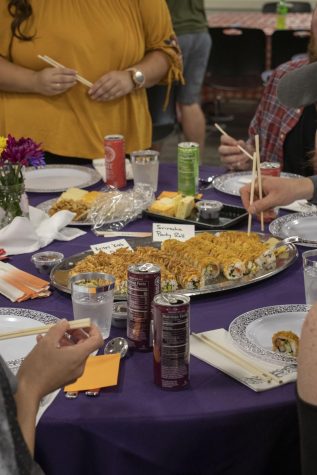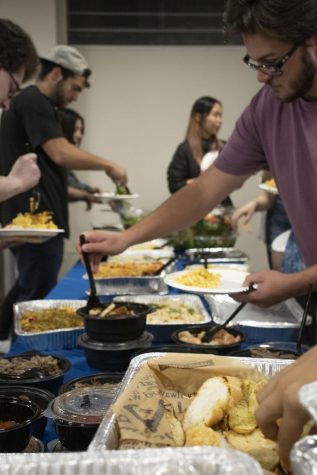 Dan Balski said the event was created because he "really wanted to work with staff and faculty that were passionate about this [hunger awareness] event."
Because it's too easy to ignore what others may be going through, the event's interactive nature allows attendees to walk a mile in someone else's shoes, so to speak. After each table got their food, they opened the room to share their thoughts about how they felt about the banquet and personal experiences with food insecurity.
There were a lot of voices from different social classes that realized even though we all sat at different tables, we are all one. There was one girl that shared about how she grew up in the lower class being raised on food stamps and making sure that they had enough on the EBT card but now is in the middle class. She wanted to emphasize that "we are all a part of this."
There was a student that spoke about how he thought he noticed that the tables weren't sharing with each other. However, some students who did share with their peers. After this topic spurred up, another student stated, "I would've helped if I knew I could help".
If you're wondering how you can help the ACC community, the best thing to do is becoming more aware and inserting yourself in friendly relationships and community.
Another way you can help out is by donating to the Food Drive, at the Parker or Littleton campus, from Sept. 16-18. If you or someone you know is food insecure, please do not hesitate to reach out to your professors and or go to the food pantry- they have a selection of non-perishable food.
To access the pantries, bring your student ID card and provide your S# to the staff. Students can take up to seven items, once per week. Both of the pantries are available year-round.
The two main components of food security are availability and access. And ACC wants you to make sure that we have just that. 
ACC Food Pantry locations:
Littleton Campus Food Pantry-
Location: Room M2720
Hours: Monday – Thursday 8:00 a.m. – 5:00 p.m., Friday 10:00 a.m. – 5:00 p.m.
Parker Campus Food Pantry-
Location: Main room behind the front desk
Hours: Monday – Thursday 8:00 a.m. – 9:00 p.m., Friday 8:00 a.m. – 5:00 p.m.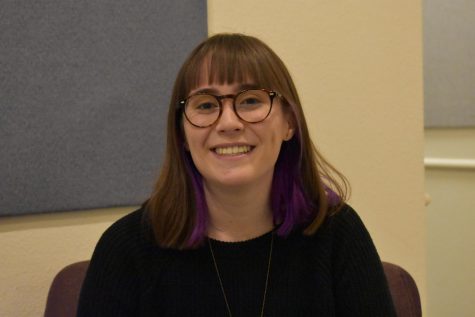 Cam Yarumian, Reporter/Photo Editor
Cameron is a California-born photographer based in Colorado. She moved to Colorado in the summer of 2016 and hopes to continue her passion for Photography where ever she travels to. She has slowly risen from taking senior photos to...