Interior Design Student Display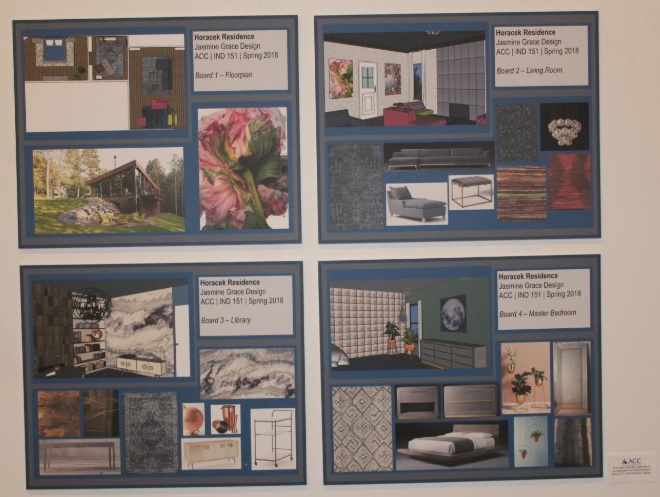 Arapahoe Community College interior design students were given the opportunity to show their work. From October 8 – 25 the interior design student's work was on display in college art gallery.
The purpose of the interior design student display is to give students the opportunity to show the work they have done after developing a portfolio that allows students to look more professional and show quality work.
Chris Shields is a 2009 graduate from the interior design program and now has his own interior design business: Chris M. Shields Interior Design. Shields was the judge, stating that all the students work displayed was quality work. He judges based on the overall composition, whether they understand all of the elements for design, as well as principals and how the project was put together.
These factors are used to look at how the students will take what they are learning and go into the real world, showing that they can be professionals. They also help determine if the students could sell these services to people in the real world. Will someone want to hire them? The student displays are looked at as a whole with some subjectivity. In the design industry the expectations students need to meet are to know how to communicate their design idea, capture their ideas in creative ways; whether it's drawing or how they collect their materials, and how they display those ideas.
To get to this point students are taught both residential and commercial design as the two pathways. Residential design is based on residential design. Commercial gets into the specific codes and all the requirements for materials. In almost each class furniture is introduced as it goes into commercial and residential design.
Skills taught are Architectural drafting, which teaches them how to create a floor plan and elevations. Elevations are things builders need to be able to build. Space planning teaches students how to put a room together effectively and correctly. Sustainability informs students on sustainable design. There is also a course on the business of interior design.
Technical aspects of the program include autocad a software program that allows students to put their hand drawn floor plan into a computer, making it easier for them to make corrections and fully develop a drawing. "Sketchup" is a program that lets students develop three dimensional drawings. Students who want to go into commercial design should take the autocad revit course. It is an autodesk product similar to autocad but a little different. It is used for designers who want to go into commercial design and is used for architectural firms. The final course is capstone which puts everything interior design students have learned together. The interior design program helps prepare students for the N.C.I.D.Q. the national council of interior design qualification.  N.C.I.D.Q. certification allows you to draw plans and have those plans executed in Colorado.
The interior design student display portrayed what interior design students have learned in a professional and quality oriented way. The gallery features many interesting and different displays and exhibitions. The gallery is located at Arapahoe Community College 5900 S. Santa Fe Dr. Littleton, CO 80120.