Fishing In and Around Parker
A Local's Guide to Fishing Parker, Colorado
I've had a burning passion for fishing since I was four or five years old. Being from Minnesota, my fiery passion could be quenched easily seeing how I was in the "Land of 10,000 Lakes" throughout my childhood.
With that said, I have lived in Colorado for the majority of my life and I've come to learn the bodies of water in the areas around me. Parker, however, has proven to be a brand new challenge to my fishing career due to the unusual lack of water to fish. After living in Parker for five years, I now feel like I acquired enough knowledge to now hopefully pass down to anyone who is wanting to wet a line close to home.
I will be covering my favorite bodies of water to fish that happen to be within 30 minutes of the ACC's Parker Campus. First and foremost, I will talk about the Bingham lake that lays within The Pinery. I discovered this small 30-acre lake when I first moved to Parker and have had a blast fishing it thus far. The species of fish you can target include, largemouth bass, black crappie, walleye, bluegill, wiper-white bass x striped bass hybrid-, common carp and channel catfish.
For a beginning angler, you can find hungry crappies and bluegill very willing to take anything from worms under a bobber, to an assortment of flies for you fly fisherman. These smaller-sized panfish will generally only reach 5 to 10 inches in length but are a lot of fun and quite easy to catch for even the most inexperienced anglers.
Catfish can also be easily targeted here using a large hook with cut shad, frozen shrimp, or even hot dogs held on the bottom with a heavyweight. Carp can be caught using this same method with smaller hooks and canned sweet corn. Both catfish and carp can reach lengths of 30+ inches and over 20 pounds and are very strong fish who will put up a big fight to even experienced fisherman, which means you should try and up-size your gear to deal with them adequately.
The more predatory fish such as largemouth bass, wiper, and walleye will take any types of lures that resemble their main forage: shad, bluegill and crawfish. I tend to have the best luck on jerk baits, spinnerbaits, chatterbaits, and even topwater lures such as poppers. You can also catch them with the same method mentioned for catfish with cut shad or bluegill-because that is their main forage- on the bottom. With such a variety of fish and its small size, Bingham Lake has become one of my favorite lakes to target when I just really need to get out of the house and wet a line.
Another great spot in Parker is Cherry Creek Reservoir, a very well known body of water to many in the metro area. The reservoir is an 880-acre lake that is well known among fisherman for its trophy walleyes. To add the large walleyes that inhabit the lake, there are rainbow trout, wiper, channel catfish, and a variety of panfish such as crappie and bluegill.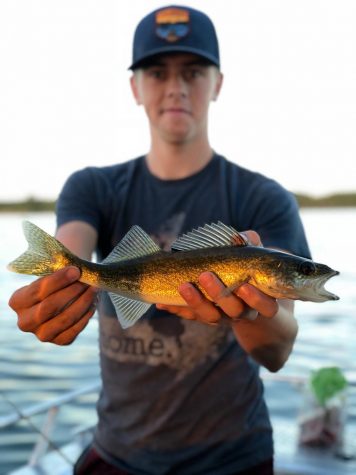 If you're going to attempt to target walleyes, it is best to do so during dawn and dusk or even at night as they are more on the nocturnal side of the spectrum compared to other fish. The reservoir's trout can be caught using power bait, nightcrawlers, inline spinners, and spoons.
Both fish are great eating so don't be afraid to keep some for dinner!
The best spot to catch anything and everything in Cherry Creek Reservoir is the dam and inlet where Cherry Creek washes into the reservoir. Cherry Creek Reservoir is a great place to go if you're looking for a meal to put on the table or if you want to catch a walleye of a lifetime, so give it a go while the weather is still warm!
Finally, we have a lake that could be argued as one of the best bass fishing lakes in the Denver metro area, Quincy Reservoir. This 160-acre lake is by far my top 10 lakes in Colorado due to its healthy population of largemouth and smallmouth bass. Bass in the four to the six-pound range are not uncommon and I've had friends catch bass up to eight pounds out of this lake. In addition to bass, there is an abundance of yellow perch, crappie, and rainbow trout which all make for great forage fish to grow the large bass I have spoken of.
Both species of bass are willing to eat a variety of hard and soft lures. If you want to target smallmouth bass, they can be found in rocky areas around the dam and can be caught on bass jigs, drop shot rigs, shaky heads, jerk baits and crankbaits. During the warmer months of the year, they are a blast to catch on topwater lures during the evening and will eat poppers, Zara spooks, and jitterbugs.
Keep in those small mouths in mind and downsize your lures when targeting smallmouth bass so the fish can get a hold of your lure better. This will result in better hookups and landing more fish. Largemouth can be found in the weedier portions of the lake as they love aquatic vegetation. Just like smallmouth, they can be caught on a variety of topwater lures in the mornings and evenings with some of my favorite beings, hollow-bodied frogs, buzz baits and wake baits like the Spro BBZ-1 Rat.
Quincy Reservoir is an amazing fishery and a spot you have to head to before they close for the winter at the end of October.
Hopefully these tips will help guide you on your next fishing adventure in and near the Parker area.