Denver Dog Parks: Off-Leash Fun and Frustration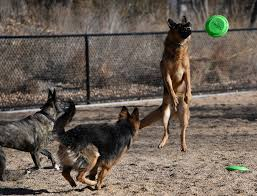 Corey Michaels, Contributing Writer
November 27, 2018
With space at a premium and leash laws strictly enforced, every urban dog owner knows the challenges of trying to provide their dog with enough exercise while balancing a busy schedule. For many, off-leash dog parks are the only viable solution. Denver currently has eleven of them, spread across its nearly 100,000 acres of land.
Barnum Dog Park, at 420 Hooker Street, was one of the most recent additions: opened in December 2017 and spanning ¾ of an acre, it is a welcome addition to a neighborhood in Denver otherwise devoid of places to let dogs run free. That said, it is far from the best option for dog owners in the Denver metro.
The dog park is part of a larger park that affords excellent views of the city skyline to the east/northeast and slight mountain views to the west. Parking is readily available and the dog park is only a short walk along the trails that meander through the hilly lawns of Barnum Park. The off-leash area is a flat fenced-in area located on a hill and is divided into two sections with one for low energy play and the other for high energy play.
My dog, being the energetic and social puppy that she is, preferred the high energy area. The owners and canines I encountered were friendly and sociable, but compared to other dog parks in the city, Barnum Dog Park gets fairly light usage; only three other dogs were in the park during our last trip and the previous visit had only one other dog. A lot of this can be attributed to the mediocre surface, consisting of a 2-3 inch deep layer of loose gravel. This is designed to provide better drainage and easier fecal cleanup but proves rather awkward for dogs to run and play on. My dog, normally very playful, instead lingered around casually with the other dogs and humans. Tennis balls, a staple of canine entertainment at other dog parks such as Fuller Dog Park in Whittier, are unable to bounce or roll on the cumbersome surface.
Although the surface choice does mean that the park will be easier to maintain, keeps dogs cleaner than sand, and will likely remain fully useable following wet weather or snowmelt, Denver already has a handful of parks utilizing loose gravel and only one (Lowry Dog Park) that contains a section of naturally vegetated surface. The consensus among dog owners using the dog park was that Denver is in need of an off-leash area with well-watered grassy lawns. Critics may point out that in a climate as arid as Denver it would be difficult to maintain such a surface. Many dog parks started out as turf/natural vegetation but became eroded through usage.
My previous hometown of Bozeman, Montana has a similar climate and roughly 8 dog parks larger than Barnum that contain a vegetated surface, despite only 40,000 people living in the town; they suffer none of the erosion issues that occur in Denver. The problem is mainly that Denver, with roughly 140,000 dogs residing within city limits, has too high of a dog density to support only one small grassy dog park, and any attempt to do so is met with overuse and erosion.  One solution could be to introduce a timeshare program to an existing grassy park, such as Cheesman Park, while simultaneously closing and restoring grass or natural vegetation in existing dog parks.
In the meantime, Barnum Dog Park makes a fine place for Fido to play if you live in the Barnum neighborhood or within surrounding neighborhoods, where no other off-leash option exists. It is clean and well-kept, and does not have the strong stench of urine that is common in many dog parks. The size is more than adequate, giving your pup plenty of space to play and explore.  Due to the lower usage and presence of a low-energy area it may also be an excellent option for owners whose dogs get overwhelmed when a large number of dogs are present.
One thing to keep in mind prior to a visit is that amenities are rather sparse. Some shade is afforded compliments of mature trees growing along the sides of the fenced in area, but water is not available on-site and no benches are provided for owners, so plan on bringing water for you and your pup. If you are looking for a destination dog park, instead consider Cherry Creek off-leash area in Aurora, or Westminster Hills off-leash area in Westminster. If you live nearby, however, this may be just what you and your pup need in your lives.