'Kundalinians,' with four ACC students, trying to have it their own way in music world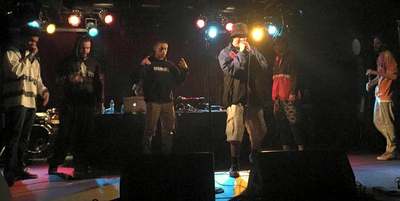 Hang on for a minute...we're trying to find some more stories you might like.
The last thing that the Kundilinians want you to be able to do is classify them.
This seven-plus member group (four of them are ACC students) strives to be unidentifiable, with no firm link to a particular genre or style.
Rather, they see themselves as pushing their peers to think for themselves in a way many listeners have forgotten about.
"We're just always spittin'," said emcee Luc Weaver. "We're very versatile. We have songs that present hidden knowledge that you have to seek out in order to understand, and then we also have good party songs."
The hidden knowledge they mention is particularly intriguing.
"We talk a lot about the divine and spirituality," Weaver said. "It's stuff that you actually have to search for."
Another emcee said, "We bring information and try to perform and inform at the same time."
This applies to the collective's name, the Kundalinians. It appears strange to any eye it catches, and that is the purpose. Their music pushes the audience to think about what is going on in the world and to become attentive to ideas they may have never heard of before.
Though the group has been together only since December of 2014, it already presents a vision for its flavor of hip-hop – not the straight hip-hop, mind you. One explained that the group "wanted to do more than just freestyle in their basements," so they came together with the common goal of showcasing their talents and versatility in a live performance setting.
Though they have plenty of ambition – they hope to tour nationally within a decade – they know about adversity.
They remember – and not too fondly — an earlier performance, which was cut short. This induced much frustration among the members, and it serves as an unfortunate reality in the development of a small group working to establish themselves in the music industry.
Even so, they have their own way, such as a recent performance when some members of the group jumped down into the audience and began dancing.
Such episodes may not do much for the group's ultimate dream of touring nationally.
A dream, however, can be supported with an education. Two of the group's emcees and both of its DJs are pursuing degrees in sound engineering at ACC. In addition to bucking the trend with musical style and genre, they're going against the grain in their studies, as well. The DJs use analog production instead of the popular digital approach many artists use.
In any case, though, they realize the odds they fight in making the national scene, and they have patience.
"You can't rush good art," said one.