Executive Order 9066: Remembering Japanese Internment Camps 75 years On
Hundreds attended the Day of Remembrance at the History Colorado Center on Sunday, Feb. 19, 2017, — commemorating the lives of the 120,000 Japanese-American civilians who were infamously and unlawfully imprisoned in internment camps across the nation during World War II.
Emceed by Channel 9 News' Adele Arakawa, the free event provided a platform for a number of guest speakers — many of them survivors — to recount their compelling stories.
Keynote speaker Professor Lane Ryo Hirabayashi, from the Department of Asian American studies at UCLA,  who specializes in the post-war resettlement of Japanese-Americans, delivered a riveting presentation.
The crowd listened intently as US Navy veteran Bob Fuchigama, 86, described the day soldiers appeared at his doorstep one morning.
"They just told us to get rid of everything except for certain items. I didn't learn where we were going."
Now troubled by the new administration's focus on a Muslim ban, Mr. Fuchigama reminded of the propensity for it to recur.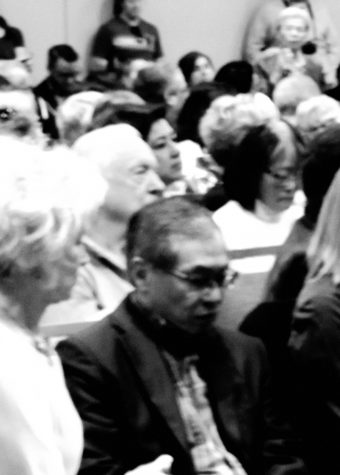 Two months after the attack on Pearl Harbor, President Franklin Delano Roosevelt signed Executive Order 9066, on Feb. 19, 1942, laying the predicate for the evacuation, and eventual incarceration, of all ethnic Japanese from the West Coast.
Senator Robert Taft, R-Oh, elder son of President William Howard Taft (27th President of the United States and 10th Chief Justice of the United States) was the only one in the Senate to strongly object.
In a sweeping moment of fear and frenzy, authorized army personnel moved from door to door, in cities all along the Western Seaboard, rounding up anyone who had as little as 1/16 Japanese blood in them.
Of the 120,000 incarcerated, two-thirds were American Citizens, and 80,000 were underage minors.
In fact, during the remainder of the war, not a single person of Japanese ancestry was ever convicted of any crime.
"To us who had faith in the Constitution of the United States, it was a profound shock that our citizenship did not matter and that the rights guaranteed under the Constitution would be easily taken away from us without due process of the law." The Minidoka Interlude.
The racially motivated relocation proved to be an egregious invasion of citizenship rights, compelling Japanese-Americans to relinquish their properties, and their businesses.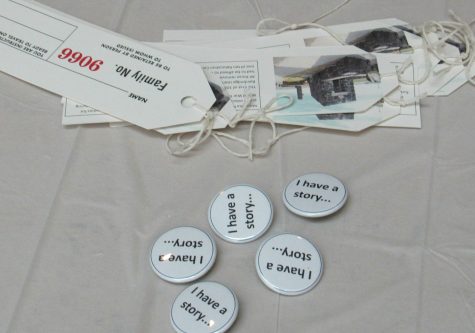 Estimates taken after the war reveal the Japanese-American community suffered a cumulative loss of $400 million in 1942 — or about $5 billion today.
Determined to prove their loyalty to the nation, some 2100 Japanese-Americans enlisted in the US Armed Forces, serving as the 442nd Infantry Regimental Combat Team.
Built on an expanse of gritty farmland southwest of Granada, Colorado, Camp Amache, named after the daughter of a Cheyenne Native-American chief, was one of ten relocation centers established during World War II in the rugged interior West.
Officially known as the Granada Relocation Center, the internment camp detained up to  9000 Japanese-Americans; forcibly removed from the green valleys of California to live on an isolated sand hill confined by a barbed-wire fence.
Camp Amache residents lived in flimsy barracks that provided little shelter from the harsh elements — offering only one window, a single light bulb, a coal oven and cots with thin mattresses.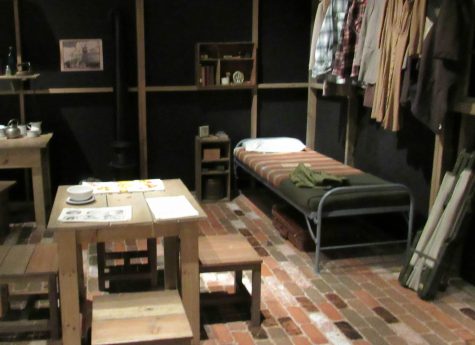 For a little sense of privacy, occupants hung sheets as wall dividers and made make-shift curtains.  Paint was used to liven up the interior.
In October 1945, the camp was eventually abandoned and razed; its 550 buildings stripped and sold to business enterprises, leaving only cement foundations as evidence of a once-bustling community.
Half a century later, Granada High School teacher John Hopper felt a moral obligation to shed light on one of Colorado's darkest moments, ignored and omitted from our history books.
After securing permission to study Camp Amache as a history project, Hopper and his students began a tedious endeavor to trace former camp occupants — 2000 of whom were still living in Colorado.
Touted a huge success, the project garnered much attention, as it happened to coincide with nationwide efforts to face that terrible and embarrassing chapter in American history.
In 1983, the US Commission on Wartime Relocation and Internment of Civilians concluded, "there was no military necessity for the internment of 120,000 people of Japanese ancestry during World War II."
In an effort to 'right a grave injustice', President Ronald Reagan penned the Civil Liberties Act of 1988, which compensated more than 100,000 American-Japanese that were wrongfully detained. The legislation offered a formal apology and paid out $20,000 to each surviving victim – $1.6 billion in total regress.
For a glimpse into the stark lives of Amache detainees during the war, please visit the Amache exhibition online, or on the second floor of the History Colorado Center.
View Comments (2)