Journalism Professor Turned Balleribro
Professor Jamey Trotter is known at ACC as the coordinator for our Journalism and Contemporary Media program (and the adviser for The Pinnacle!). But there may be something you don't know about him.
He's a ballerina! Or a "balleribro", as he puts it. His most recent performance in the Nutcracker with Golden Dance Arts marks his third year of ballet he has been in.
Trotter started his love for all things performing at a very young age. He was taken to see the Nutcracker as a child and loved it. He played the tuba in band, was in pit, and even got the chance to play with a professional orchestra at the age of 16. When it came to theatre and dance, however, it wasn't until he was older that he caught the "theatre bug" as his acting teacher Connie Sanders would put it.
Six years ago, Trotter signed up for an acting class at our sister school, Red Rocks Community College, and fell in love with the acting world. He has participated in multiple plays in the area and taught a couple theatre appreciation (THE 105) classes at the Parker Campus, which ended with "highly successful theatrical productions performed to a live and recorded audience."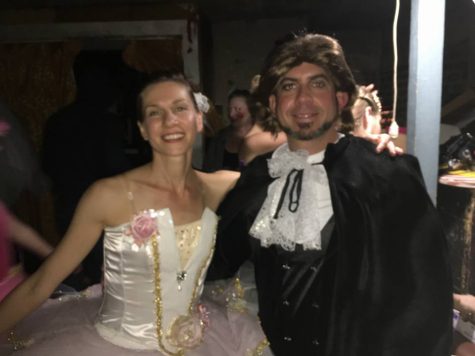 Trotter has been a "balleribro" for three years now, though he never pictured himself ever doing ballet. His daughter was in the Nutcracker and they desperately needed an adult male to play Uncle Drosselmeyer. He said "hey, why not, I can do that," and three years later, here we are! His first year was more acting than dancing for him, though he still enjoyed it. His most recent production, however, required more dancing on his part and he was happy to oblige. "It's more professional dancing this year for me. . . more complicated." And due to the rare number of males in the show, this meant for him more partnering and lifts. He even got to carry his daughter offstage upside down, which is a plus in his book.
Trotter looks upon this aspect of his life with fondness. "My involvement in ballet allows me all that much more time with my daughter, and I cherish that. . .  [during] this production we got to be onstage together more than ever." Not only is he being a good role model for his own daughter, he is for the few boys in the show as well. "There are exactly three boys in this company. . . I like to think that they appreciate having an older male dancer in there with them."
Not only has it helped him be a role model to the kids, it has also helped him grow as a professor. "Teaching is sort of like a performance" he told me.
Acting is all about losing your inhibitions to be able to give the best performance possible, teaching is the same way. You must let go of fear or you won't get anywhere. There's a rush that comes from putting on a good show. It fuels you to keep doing better.
"Teaching has that rush too. You get it whenever you have a good class, it just feels awesome." Plus, you're always trying to entertain in both fields or your "audience" falls asleep!
Trotter is unsure what lies ahead for him, but keep an eye out! You might see him in some upcoming ballets soon at Golden Dance Arts!
Leave a Comment