Coming Soon! Musicals Coming Up in 2017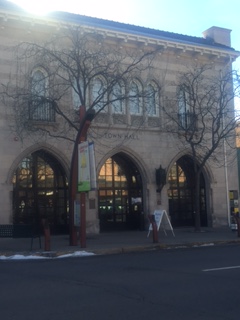 It's been great writing and reporting on musicals for you all this semester. I'm excited to continue in January and there are some specific shows I'm especially pumped for!
Avenue Q. The Town Hall Arts Center is presenting this Tony Award-winning show with puppets!  "Part flesh, part felt, and packed with heart, the R-rated musical tells the story of a recent college graduate who moves into a shabby New York apartment all the way out on Avenue Q. He soon discovers that, although the residents seem nice, it's clear that this is not your ordinary neighborhood." Avenue Q is a truly unique show that has quickly become a favorite for audiences everywhere. It is playing at the THAC from January 13th to February 4th.  You can buy tickets here.
Bonnie and Clyde. Yet another show from the Town Hall Arts Center — "Bonnie & Clyde is a thrilling and sexy musical with a non-traditional score, combining blues, gospel, and rockabilly music. It tells the classic story of Bonnie and Clyde, where their bold and reckless behavior turns the young lovers' thrilling adventure into a downward spiral, putting themselves and their loved ones in trouble with the law. Forced on the run from every southern state's police force, the notorious lovers resort to robbery and murder to survive." Buy tickets here and catch this exciting show at the THAC from February 17th to March 19th.
Kinky Boots! Of course I've gotta include a show from our fabulous Denver Performing Arts Center — "With songs by pop icon Cyndi Lauper, this joyous musical celebration is about the friendships we discover, and the belief that you can change the world when you change your mind. Inspired by true events, it takes you from a gentlemen's shoe factory in Northampton to the glamorous catwalks of Milan. . . Take a step in the right direction and discover that sometimes the best way to fit in is to stand out." Kinky Boots is playing at the Buell theater from March 21st to March 26th! You can buy your tickets here.
The Robber Bridegroom. Back to the Town Hall Arts Center we go! "Set in eighteenth century Mississippi, the musical follows Jamie Lockhart, a rascally robber of the woods, as he courts Rosamund, the only daughter of the richest planter in the country. The proceedings go awry, however, and the outcome is a rollicking country romp. With its distinct sound, colorful cast, and unique form of storytelling, The Robber Bridegroom is a hidden gem!" Come see it at the THAC from March 31st to April 30th.  Get your tickets here.
Mamma Mia! I'm so excited for this one, I love Mamma Mia!  "It is the ultimate feel-good show that makes audiences have the time of their lives with ABBA's greatest hits, including "Dancing Queen," "S.O.S.," "Super Trouper," "Take A Chance on Me" and "The Winner Takes It All," with an enchanting tale of love, laughter, and friendship." See this iconic show for yourself at the Buell theater from April 11th to April 16th.  You may purchase tickets here.
Hairspray! Lastly is my personal favorite from the Town Hall Arts Center.  "Hairspray has delighted audiences for years, whisking them away into the 1960s where change is in the air! Loveable, plus-size heroine Tracy Turnblad has a passion for dancing, and wins a spot on The Corny Collins Show. Overnight she finds herself transformed from outsider to teen celebrity. Can this fabulous girl manage to vanquish the program's reigning princess, integrate the television show, and find true love?" Find out at the THAC from May 19th to June 18th.  Get your tickets here.
I am so excited for the coming semester and can't wait to continue bringing you new shows and reviews. If you know of a show you think I should see and talk about on The Pinnacle, leave a comment and I'll be sure to make a visit!